March 14, 2007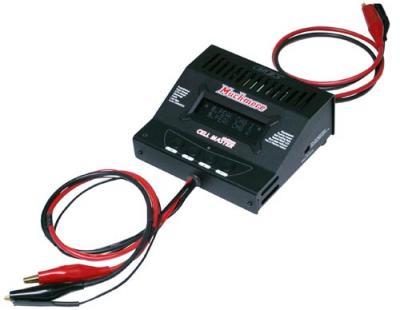 Just when you thought you couldnt have any more products released from Much More today, along comes the updated CTX Cell Master, Platinum edition. A brand new state-of-the-art charger with improved hardware and featuring revised software, the Cell Master is the perfect battery management unit for Charging and discharging all Ni-MH & NiCD.
Hit more to see all the specs…
Main Features
Peak Charge – Super linear charge(3 memories-customizable)
CTX Charge – 1/3-2/3-3/3 step charge(3steps charge, 3memories-customizable)
Li-Ion & Polimer Charge – up to 11.1V(3cell), 1A charge, discharge
Discharge – 0.1~10A , 0.1~6.0V cutoff
Cycle – up to 3 times repeatition
Last Data – save CHG, DCH, CYC data
Input – DC 10.0-16V
Cell nunber – 1-8cells, 0.1-10A charge, 0.1-10A discharge

CM has current limit as belows.
Charge
1cell 0.1~5A
2cell 0.1~6.5A
3cell 0.1~8A
4-8 0.1~10A

Discharge
1~6cell 0.1~10A
7cell 0.1~8A
8cell 0.1~6A

– Cycle (1~3times), Latest data display.
– Peak sensitivity 3mV/ pack~99mV/ pack, Zero delta peak
– Auto start timer charge (count down)
– Auto repeak (0~3) comes with delay time and capacity limit
– Trickle (on/off) – 0.1A
– Flex charge (off~9steps)
– Temp. sensor included. (15~70deg.C)
– Temp. start(for cold batteries)
– Capacity cut, Temp cut, Peak cut, Negavolt (one of four messege is shown after charge)
– Key tones off~3,
– 3 kind of selectable melody for start, end, error.
– IC controlled cooling dual ball bearing fans.
– Charge Amp, capacity, delta peak, Temp. cutoff, fan starting Temp. values can be changed during Peak charge.
– Black back lit LCD, Gold plated alligator clips in/output, Blue state indicator LED
– Fan/Battery warmer control output
– Easy key operations
– Input and output protection against overloads, reverse polarity and short circuits,low or high input voltage, low battery temperature.
– Also, the auto restart system after power failure.
Source: Much More [much-more.co.kr]
---