March 13, 2007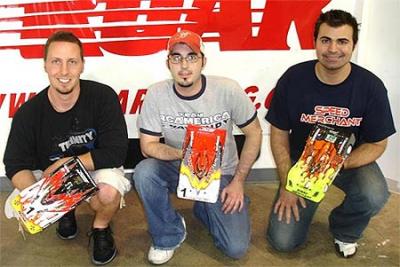 We briefly covered the ROAR Carpet Nationals that took place last weekend and frustratingly have still to find any images from the finals day, so i was happy when i stumbled upon this picture from SpeedMerchants press release celebrating their clean sweep at the event.
So happy, we're going to run it…
Team SpeedMerchant wins all three 12th scale classes at the 2007 R.O.A.R. On-Road Carpet Nationals held at CEFX Raceway in Westland, Michigan.

In 12th Stock, Donny Lia qualified 2nd and went on to take a 3rd, 2nd, and a 1st in the Triple A-Main format to take the overall points victory. Donny is basically a "privateer" racer, sponsored only by NYC Hobbies with limited help from SpeedMerchant. Donny, his friend & "motor man" Sal Amato were able to take on and win against several "factory" Stock class drivers.

In 12th 19-Turn, Ray "the Natural" Darroch TQ'd and won. Ray actually got his new Rev 4.5 at the race, and because of his obligations as a JACO/SMC team representative, got very limited practice. This didn't seem to slow him down at all, and quickly earned the nickname "The Natural" from his 12th scale teammates as he carved his way thru the field. Ray of course ran JACO tires, SMC batteries in his 4.5.

In 12th Modified, Mike Dumas continued his winning ways by Top Qualifying and winning the Triple A-Main format. Mike was joined in the A-Main by teammates Andrew Gray and Barry Baker. Described as the "Mike & Mike" show, Dumas and Blackstock battled in all 3 A-Mains with Dumas coming out on top after the points were totaled. Mike's Rev 4.5 was powered by Trinity batteries & motors, controlled with a JR transmitter system, shoed with JACO tires, and topped with a Protoform Speed 12 racing body.

Look for a full race report with pictures and set-ups at www.teamspeedmerchant.com in the coming days.
Source: RCCA [radiocontrolzone.net]
---