March 2, 2007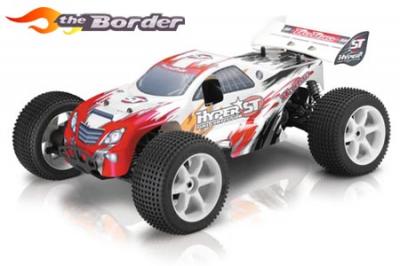 Our site sponsor The Border – Online RC Supermaket have asked us to mention some of their great new offers and new releases for the month of March.
First up we have the release of the new HoBao Hyper ST truggy RTR kit which the guys at The Border are very excited about. We have written about this in the past and only now has it been released and The Border have gotten their hands on a container load of them to sell to you guys. Yours for €539.00, this version is the a Ready-To-Rip version, pre-assembled with MACH .28 engine, radio and 9kg steering servo and 6kg throttle/brake. You can check out this great product here.
Another product getting a mention is the RB Concept TM323 engine set that comes complete with pipe, manifold and engine mount for the Traxxas Revo. This .23 size engine when used with its specially designed tuned pipe system will provide to you with the power you need to transform your truck into a real nasty and almost uncontrollable device. Its yours for €175.53 and can be seen here.
The final product we have for you is something really special and a great offer you may be mad to miss out on if you race 200mm. The Border are selling the Sirio EVO 3 .12 Turbo 3PT STI with tuned crankshaft combined with the S12-200008 inline pipe for only €280.90 which is an unbelievable price for a top of the line combo like this. You can view this special offer here.
The Border also asked us to tell you about their great new service 'The Border Priority Club Points, which you can read more about here…
The Border Priority Club Points
Now we offer the new function of our new shop that allows our loyal customers to collect bonus points for discount on future orders.
– With every order you make from now on you collect points.
– Bonus points will be credited to your account following your first purchase or balance transfer
– No joining fees, no ongoing fees, in fact no fees at all
– Earning The Border Priority Club Points is really easy, all you need to do is register (all our registerd customers or now already in)
– Then, once you've collected enough points, you can redeem them for discount %
1000 points 1% off your total ex shipping cost
5000 points 5% off your total ex shipping cost
– Watch our special offers with extra Priority points
– Every Euro you spend is 1 point
– Always valid
– If you want to exchange your points (above 1000) you can contact us.

See site http://www.the-border.com/offers.php
---