March 23, 2007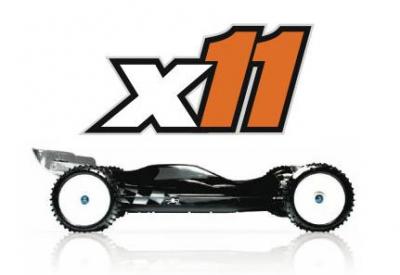 Some time ago we told you wrote about the fact that TTech Racing, the makers of the cool looking X10, had been bought by Xtreme-RC. Well now we see the first fruits of that new arrangement with the announcement that the X11 4wd electric buggy, the follow up to the X10, will be released at the end of April. The list of new features was published on the companies site and from what we have read the new cars looks to have better durability, performance and should look great too.
To see the full list of new features click here…
X-Chassis
Carbon fibre filled material is standard on the X11 and the chassis has a new shape too. The outermost edges are radically altered to provide greater ground clearance in roll, plus additional longitudinal and torsional strength and rigidity.

Hardened 3mm hinge pins
Precision machined and hardened hinge pins for ultimate strength and reliability

X-Blocks
The larger diameter hardened 3mm hinge pins are solidly held with a unique and patented system. Beautiful blue aluminium plates fix the end of the pins into place and spread suspension and impact loading. Optional, methodically calculated plates allow fine tuning of anti-dive/squat and toe in angles at the front and rear, allowing these critical angles to be set perfectly for track conditions

X-Brace
The front gearbox has been separated into its two separately functioning areas.
1 – A beautiful and very strong aluminium cross brace, machined from a single piece of high grade aircraft aluminium, accurately locates the suspension rocker crank pivots, suspension pins, and ball raced steering assembly
2 – The reduced gear cover is now only required to protect the gearbox internals and is carbon fibre filled to reduce weight and lower centre of gravity

Rear Gearbox cover
Now moulded in lightweight carbon fibre filled material, this has additional lugs which provide for easy and precise adjustment of rear suspension droop.

Fully ball raced steering
The ultra strong steering link is ball raced and connected to new aluminium steering arms via stainless steel posts.

Servo posts
Lightweight and strong aluminium servo posts bolt your steering servo to the chassis. Their new position moves your servo significantly closer to the prop shaft for superior weight distribution with reduced polar inertia.

Servo Link Rod
This passes directly to the new steering control arm through the bodyshell via a rose joint assembly. The quantity of holes through the chassis is reduced, bringing additional torsional rigidity and strength to the chassis and more precise steering control.

X-Rocker Cranks
Stunning new suspension Rocker Cranks, machined from a single piece of high grade aircraft aluminium, give superior geometry and strength

New Wishbones
All wishbones are graphite as standard, and the upper wishbones have been evolved to include massive high strength M4 turnbuckles for quicker and more precise adjustment of camber.

Ultra Propshaft
Hand laid-up, woven carbon fibre, tubular prop-shaft. Careful positioning of the carbon fibre weave allows the new prop shaft to transmit the massive power of today's motors with 40% less weight and 50% more torsional strength for amazing high speed spooling and acceleration response.

Spur Gear
New ultra strong material

Wing Mounts
A new lighter and stronger material with thicker section for added strength

Low Profile Nose Cone
Carefully restyled to match and blend to the angled aluminium front X-Block. Provides massive ground clearance where it counts – for superior bump and jump handling and landing

X11 Bodyshell and airflow package
Superior airflow to rear wing, stronger front wing, increased internal cooling, greater mechanical rigidity and an awesome new look for 2007

Xtreme Orange Wheels
Continuous testing and development of materials, ensures that the 2007 "Xtreme Orange" is the lightest and strongest we've ever made

One way – Optional
An optional front one way unit has been tested by our Team Drivers, and is awesome. Faster response and cornering speed reduce your lap times. The X11 has been designed with this new unit in mind.

Adjustable brakes – Optional
Fits directly and easily into your one-way drive unit. Allows quick precise adjustment of front braking to allow all of the speed benefits of the front one way drive with easy and perfectly balanced handling. See the new web site for our Team Driver's setup tips.
Source: TTech Racing [ttechracing.com]
---