April 15, 2007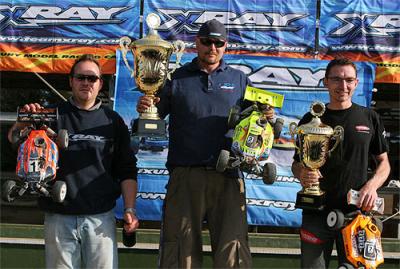 This weekend saw the Nordic Xray Challenge run on the newly renewed Hilleröd track in Denmark. The event which was open to all makes of cars attracted a large entry with drivers from many different countries making their way to the event, which thankfully took place under sunny skys. British driver Jon Hazlewood was the man setting the pace in qualifying but in the main final it was Xray driver Robert Gustafsson of Sweden that took the win with Hazlewood, also racing for Xray, in 2nd, while 3rd place went to Lars Alex Jensen driving for Kyosho.
Click here to see final race order…
1. Robert Gustafsson, SE (XRAY/OS)
2. Jon Hazlewood, UK (XRAY/OS)
3. Lars Alex Jensen (Kyosho/RB)
4. Rune Karlsen (Kyosho/RB)
5. Mikael PÃ¥lsson, SE (Mugen/Ninja)
6. Frode Skauen, NO (Losi/Dynamite)
7. Brennan Ralls, UK (XRAY/Falcon)
8. Peter Harder, DK (XRAY/Recab OS)
9. Morten Thorkildsen (XRAY)
10. Tim Culmsee, DK (Hong Nor/RB)
11. Steffen Culmsee, DK (CEN/)
12. Christoffer Svensson, SE (Kyosho/RB)
13. Jonas Kärup, DK (Kyosho/RB)
14. Henrik Nilsson, SE (Losi/OS)
View some more pictures from the event here.
Source: Neo Buggy [neobuggy.net]
---