April 15, 2007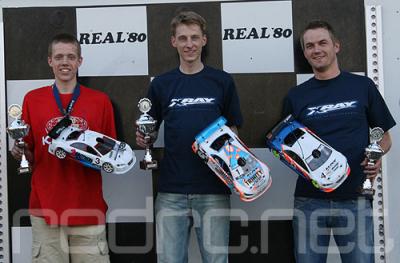 Today saw the first round of the Dutch 1/0th 200mm Nationals held at the Gronignen track in the north of Holland. In qualifying it was Xray driver Jilles Groskamp that took the TQ spot followed by Serpent racer Jordy Blok in 2nd with Kyosho racer Daan Jacobs claiming the 3rd qualifying spot. In the race itself, Jordy Blok was the first retirement after 10 minutes which left Jilles in a clear lead but he immediately suffered from a 2nd gear failure which meant he only had 1st gear for the rest of the final. This allowed Daan Jacobs to start closing and eventually take the lead, only to have to pit suffering from problems to his right rear rim on a track that was causing huge tire wear. Jilles, once back in the lead, took the win followed home closely by Daan in 2nd with another Xray NT1 driven by Maarten van Lierop in 3rd.
Click here to see the final results…
1. Jilles Groskamp – 105L 30.07.868
2. Daan Jacobs – 105L 30.17.353
3. Maarten van Lierop – 104L 30.03.933
4. Ruud Schuitmaker – 102L 30.06.681
5. Remy Moller – 101L 30.01.814
6. Jurgen Geerligs – 95L 30.04.938
7. Sander Borghoff – 83L 28.07.183
8. Niels Pourchez – 70L 30.11.729
9. Ronald van Erp – 61L 27.28.479
10. Jordy Blok – 38L 10.48.572
Thanks to Ruben for the info and picture.
---