April 9, 2007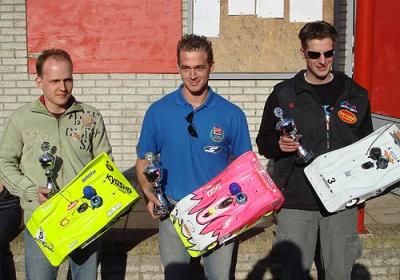 Last weekend saw the opening round of the 2007 Dutch Nationals take place at the very fast Rucphen track in the south west of the country. The event played host to the 2 Dutch National 1/8th scale classes, the NK class for the top guys and the Nomac class for slightly slower drivers or newcomers. In the NK class it was local driver and Serpent racer John Ermen that took the win ahead of another local driver and top international, Rick Vrielijnck racing for Mugen in what was a blisteringly quick event, with lap times 7 tenths of a second a lap faster than last year. In third position was Kyosho factory racer, Ilia van Gastel from Belgium, who having not received his Team Orion .21 motors in time ran the qualifying with Picco IDM motors and the main final with a Sirio.
In the Nomac class it was young Miguel Hereijgers that took the class win driving a Serpent 960, with Motonica racer and Red RC sponsor, Michel Nijman from The-Border in 2nd spot while 3rd place went to Mugen racer Arie Mante.
Click here to see the NK results in full Nomac class podium…
NK Class final results:
1. John Ermen – 130 Fin. 30:11.959 (Serpent 960)
2. Rick Vrielijnck – 129 Fin. 30:02.599 (Mugen)
3. Ilia van Gastel – 129 Fin. 30:08.815 (Kyosho)
4. Danny Leewis – 126 Fin. 30:03.522 (Serpent 960)
5. Michiel Renting – 125 Fin. 30:00.822 (Mugen)
6. Ronald Schouten – 124 Fin. 30:12.812 (Mugen)
7. Rob Kuijper – 122 Fin. 30:08.188 (Serpent 960)
8. Jordy Blok – 120 Fin. 30:01.602 (Serpent 960)
9. Rik Veenma – 116 29:00.110 (Mugen)
10. Daniel vd Drift – 125 Fin. 30:07.101 DQ (weight) (Motonica)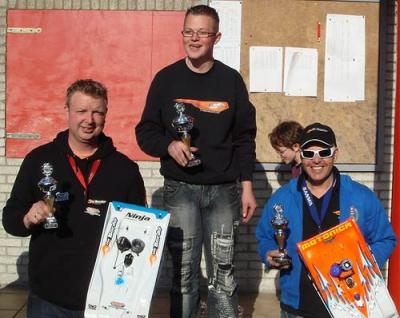 You can read a full report from the event on John Ermens website here.
Source: The Border [the-border.com]
---