April 20, 2007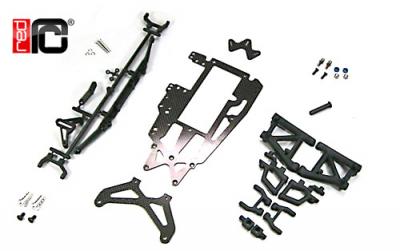 Kyosho have just today released information about the 2007 conversion set for their World Champion Evolva 1/8th scale kit. The new conversion set includes a number of major changes, with the most visible difference being the all new radio plate as well as new front body mount plate while other not so visible changes, but still major, are an updated rear body mount and shortened rear upper wishbones.
For a full list of the changes click here…
– The front body mount is new and now moves the front body posts 15mm to the front which apparently makes the car more stable thanks to the body shells new mounting position.
– The aluminium front body mount posts have been shortened due to the new front body mount plate.
– New carbon fibre radio plate.
– New rear body mount assembly that can now be mounted 5mm further to the outside which increases downforce down to the wheels.
– New rear upper suspension arms which have been shortened by 4mm for better response
– Long rear body mount arms that mount the rear body mount 5mm higher, increasing downforce.
– New carbon centering plate for the rear body mount, now with 4 mounting holes for the centering pin.
– Steel servo saver post to replace the aluminium version.
Source: Kyosho [kyosho.com]
---