April 11, 2007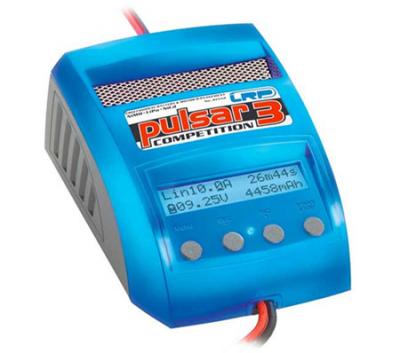 LRP have announced the release of the successor to the popular Pulsar 2 competition charger, the obviously named Pulsar 3. Bearing a strong resemblance to the Nosram Stealth Evolution charger, this new Pulsar is a fully featured charger that can handle all types of racing cells, including Lipo's, for use at the highest levels of racing and with 4 World Championship titles for this range of chargers it definitely has a great pedigree.
Click here to see the full feature list…
Charge NiMH – LiPo – NiCd
• Fast charging 1 to 8 cells (NiMH/NiCd), 1 to 3 cells (LiPo), 0.1A to 10.0A adjustable on the fly.
• 2 charging modes: Linear and Multi-Step Charging with PCS-4 and adjustable Delta Peak (5-95mV)
• Auto-Restart-System and Auto-Start-Timer

Discharge NiMH – LiPo – NiCd
• Discharge current 0.1A to 10.0A adjustable on the fly. Displays discharge time, capacity and average voltage.
• Adjustable cut-off voltage from 0.9V to 7.2V
• Matching Mode: fully automatic measurement of a battery pack

Voltage-Output Function
• Adjustable output from 1.0V to 12.0V / 20A
• Can be used to break in brushes, run comm-lathes, power 7.2V soldering irons, tire warm-ers and many more.
Source: LRP [lrp.cc]
---