April 2, 2007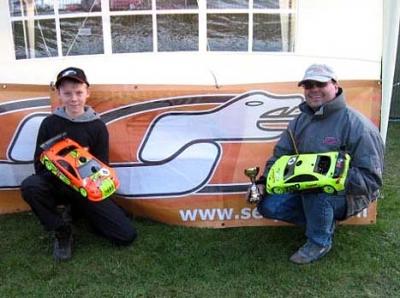 Mark Green has won the first round of the 1/10th 200mm Foam National Championships held last weekend at the fast sweeping Tibshelf track. With around 80 drivers present for this opening round Mark Green showed his intentions for this year by going out and winning the race, one lap ahead of Kyosho racer Chris Slater who finished in 2nd position with Steve Brown claiming the 3rd spot also for Kyosho. In 4th spot was 13 year old Serpent SDD driver Kyle Branson who after qualifying 6th, moved up the field during the race to claimed 4th at the chequered flag.
Click here to see the final results…
1. Mark Green – 136L 30m05.966 – S720
2. Chris Slater – 135L 30m05.146 – RRR
3. Steve Brown – 134L 30m09.754 – RRR
4. Kyle Branson – 133L 30m03.057 – S720
5. Steven Lander – 132L 30m10.262 – G4S
6. Ben Cosgrove – 122L 30m06.909 – NT1
7. Mark Gilliand – 115L 30m07.339 – NT1
8. Darren Johnson – 105L 22m52.217 – G4S
9. Peter Hastings – 84L 19m08.183 – MTX4
10. Neil Diver – 69L 16m16.544 – MTX4
Read the Kyle Branson Serpent report here.
Image: Serpent [serpent.com]
---