April 24, 2007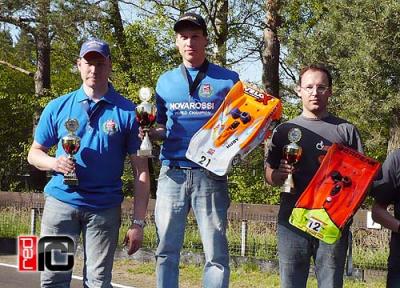 Last weekend, the MAC Nürnberg hosted the first round of the German Region South Series at their track, the Nürnberg Zollhausring. The event was open to both 1/8th and 1/10th scale classes and in the 1/8th scale class it was Robert Pietsch, driving the new Shepherd Velox prototype, that took the pole position ahead of Kyosho racer Andreas Hammerl who qualified 2nd with Philip Eberle in 3rd. In the race it started well for Pietsch, but a coming together with a few back markers dropped him back to 5th which allowed Hammerl to take the lead, but the Shepherd racer was able to work his way back up to 1st to win by 2 laps at the flag. Andreas Hammerl finished 2nd with Serpent racer Michael Eisele in 3rd.
In the 1/10th scale class it was Thomas Günsel, driving the Xray NT1, that took the pole spot from team mates Robert Pietsch and Dirk Wischnewski, who qualified 2nd and 3rd respectively. In the race it was Robert Pietsch that could take the win after pole man Günsel ran into troubles which also allowed Wischnewski move up into 2nd at the end with Christoph Pietsch claiming the final podium spot in 3rd.
Click here to see the final results…
1/8th scale final results:
1. Pietsch, Robert – 139L 30.08,64
2. Hammerl, Andreas – 137L 30.09,79
3. Eisele, Michael – 136L 30.08,01
4. Baier, Armin – 136L 30.10,42
5. Eberle, Philip – 136L 30.11,46
6. Da-Ros, Patrick – 129L 30.05,95
7. Bähr, Jürgen – 128L 30.05,67
8. Martin, Heiner – 118L 30.07,02
9. Mayrhofer, Norbert – 91L 30.02,84
10. Glas, Manfred – 1L 17,01
1/10th scale final results:
1. Pietsch, Robert – 127L 30.10,44
2. Wischnewski, Dirk – 126L 30.01,79
3. Pietsch, Christoph – 124L 30.08,19
4. Heinrich, Michael – 123L 30.11,46
5. Stammler, Dirk – 120L 30.04,46
6. Feller, Sebastian – 118L 30.02,64
7. Lechner, Klaus – 107L 29.51,35
8. Dietrich, Manuel – 81L 22.52,78
9. Günsel, Thomas – 64L 17.27,58
10. Pearson, Mark – 18L 5.18,23
View the full race results here.
Image: Michael Eisele
---