April 25, 2007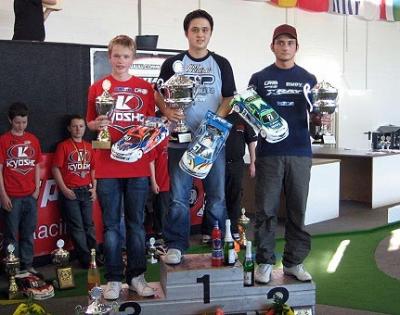 The race happened 2 weeks ago already but the results and pictures from the 2007 German Indoor Nationals have only come out now. The race took place at the permanent indoor track, Hallenstrecke des Megadroms Geilenkirchen, and was open to both standard and modified classes. In the Modified class it was Ronald Voelker that took the dominant win, driving his Hot Bodies Cyclone, while 2nd position went to Xray racer Steven Weiss with 3rd position falling to the young Kyosho driver Christopher Krapp. In the standard class it was Heinz-Jurgen Kalinowski that took the win, taking 2 final wins to finish ahead of 2nd placed Patrick Pasch with 3rd spot going to to Dominik Reschke.
Click here for the top 10 results from both classes…
Modified class results:
1. Voelker, Ronald – 2pts
2. Weiss, Steven – 4pts
3. Krapp, Christopher – 5pts
4. Pruemper, Yannic – 6pts
5. Bischoff, Felix – 10pts
6. Feldmann, Markus – 10pts
7. Kalinowski, Dennis – 13pts
8. Mobers, Markus – 13pts
9. Hofer, Martin – 14pts
10. Pruemper, Bjoern – 16pts
Standard class results:
1 Kalinowski, Heinz-Jurgen – 2pts
2 Pasch, Patrick – 3pts
3 Reschke, Dominik – 4pts
4 Linge, Mike – 7pts
5 Gunsel, Thomas – 8pts
6 Treder, Mike – 11pts
7 Klimesch, Sebastian – 14pts
8 Ossig, Sebastian – 15pts
9 Weyhofen, Andreas – 16pts
10 Schoenrock, Pascal – 18pts
Click here for the full results.
Image: HPI [hpieurope.com]
---