May 3, 2007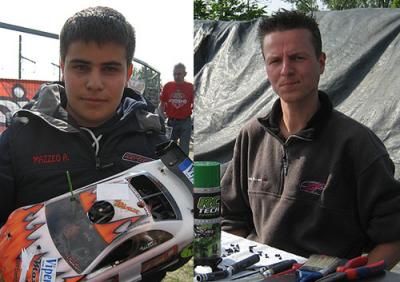 More interviews from the EC 'B' in Roeselare, Belgium, and although this pairing aren't as attractive as our last pairing, they still make for an interesting interview. Young Italian Alessio Mazzeo has been tearing up the track since he arrived and of course we are all very much aware of what Italian racers can achieve on the track. The second interviewee is Belgian racer Nick Cuypers, a previous Belgian Champion, Nick finished 2nd at this track last weekend when the first round of the Belgian 200mm Nationals took place there.
Read the full interviews here…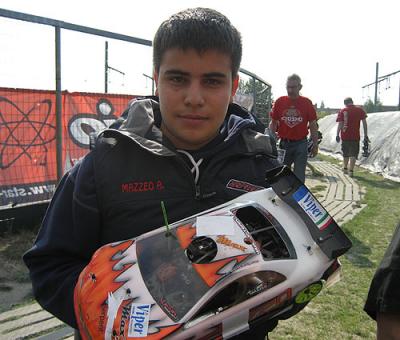 Name: Alessio Mazzeo
Country: Italy
Age: 15
Started driving at the age of: 7
Car & Engine: Serpent – Max power
Sponsor: Serpent – Max – Viper fuel – Sprint RC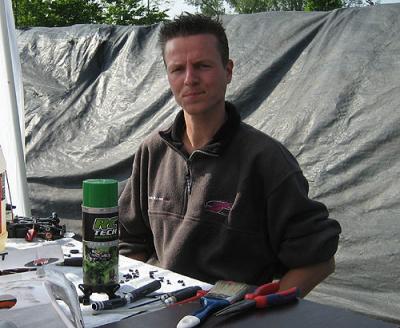 Name: Nick Cuypers
Country: Belgium
Age: 24
Started driving at the age of: 15
Car & Engine: Serpent – Mega MF
Sponsor: Serpent Modelsport – Gammalube fuel
Enneti – Giant RC-car- colors
What about the event and the organisation?
Alessio: It's well organised.
Nick: The organisation is OK, everbody from the team does his best to make it an excellent race.

What do you think about the track?
Alessio: I like the track very much. It's very fast, but not easy to go fast. Some complain a little about some dust in the morning, but i'm in a high heat, so I don't have to worry about that.
Nick: Knowing the track is here for only 1 year, the team has done an excellent job. It's a very fast track, I like it very much.

How are you doing in the timed practise?
Alessio: I'm fast, but not yet fast enough. I'm in second place after two practise runs.
Nick: Not so good. I tried some different setups today. But none seem to be working better for me. I think I'll get back to the setup, which I
used for the Belgian Championship. That one was doing great for me.

Do you think you have a chance to win? And what about the competition?
Alessio: I hope so. Maybe, we will see. I'll try to do all my best. It could be a very hard competition. But I still think I have a chance, as I started driving when I was very young.
Nick: Competition is very high. Apart from some top pilots, this could be an EC A. It will be hard to win, but I'll do my best.

What is your best result in the last few years?
Alessio: I was in 5th place in the Italian championship last year. And I finished 13th in the EC A in Halifax (GB) in 2005.
Nick: I was Belgian champion in 2005 and second last year. I was 14th in the EC A in Heemstede (NL) last year.

How did you start with R/C-racing?
Alessio: My father had an accident with his rally car, from then on, he started to take me to the track for R/C-racing.
Nick: My late father and brother have been driving for a long time, so I followed their lead.

Do you have family members in R/C?
Alessio: No, i'm the only one for now.
Nick: Yes, my brother, Steven Cuypers. He's driving 1/8, I think he's very good.

Will you compete in other European event in the future?
Alessio: Yes, all 1/10th scale event
Nick: Yes, I think so.

If we could bring an EC A 1/10th to this track, would you come?
Alessio: Yes, certainly.
Nick: Yes, for sure. It's in my home country.
Interview and photos by Youri Mestdag
---