May 21, 2007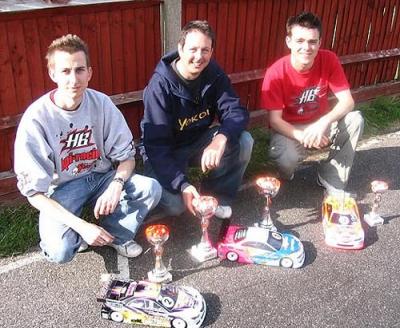 Making it 2 in a row, Yokomo racer Chris Grainger has won the 2nd round of the BRCA Modified Nationals that were held last weekend at the Aldershot track. In qualifying, Chris had set the TQ time followed closely by HB team mates, World Champion Andy Moore in 2nd and Olly Jefferies in 3rd, a close battle that would continue into the first leg as the top three battled for the lead, with Chris, Andy and Olly all taking turns to lead the frantic first leg. A mistake by Olly dropped him back leaving Chris to chase Andy but despite his best efforts Chris had to give best to Andy in leg one. Leg two resulted in a win for Chris and combined with his FTD gave him the overall victory, with Andy in 2nd and Olly 3rd. This result consolidates Chris's lead in the Championship as the season heads to Halifax for round 3.
Click here for the final modified results and Stock report…
Modified results:
1. Chris Grainger – Yokomo BD
2. Andy Moore – HB Cyclone
3. Olly Jefferies – HB Cyclone
4. Craig Drescher – AE TC5
5. Elliot Harper – HB Cyclone
6. Ben Cosgrove – Xray T007
7. Matthew White – Schumacher MI3
8. Glenn Doman – Corally PHI
9. Andy Childs – Corally PHI
10. James Howarth – Schumacher MI3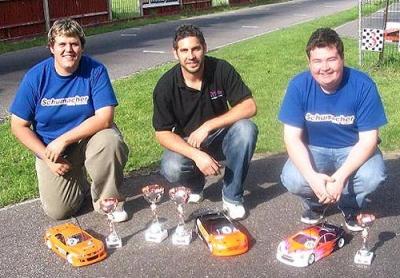 Stock qualifying was very close, Glen Westwood was clear up front but the rest of the top ten were covered by 2 seconds, Jimmy Maddison was second with Adrian Bidwell half a second down on Jimmy. The finals were eventful and first off was the stock A, Glen made a good start and slowly edged away, coming onto the straight early on Jimmy seemed to slow and Adrian Bidwell hit Jimmy in the rear, Adrian was a little unsure what to do and slowed to let Jimmy recover but to all watching it seemed more a case of Jimmy slowing than bad driving by Adrian, this mixed up the final and allowed Luke Hobson to make a great first final picking his way through and keeping it clean to take third behind Rob West, good result for the new Schumacher Mi3 with second and third.
Stock results to follow
Source: CML [cmldistribution.co.uk] / BRCA [brca.org]
---