May 30, 2007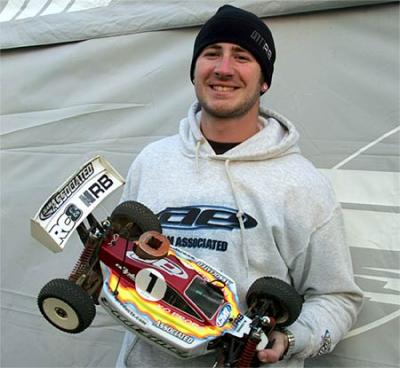 Last weekend saw the 3rd round of the BRCA 1/8th off road championship held at Holbeach which was a one off in that it is a two day event and is run to the EFRA christmas tree finals system. Unfortunately the terrible weather that was forecast arrived and so the qualifying sessions were cut from 5 rounds to 3 and were run in very wet conditions.
Round 1 saw HoBao returnee Dave Bailey take the win followed by Nats round 1 winner Neil Cragg and HoBao new boy David Crompton, thes guys were followed by Graham Alsop and Paul Bradby completing a CML/RB engine lock out of the top 5.

Round 2 saw Neil stretch the legs of the Associated RC8 and take the round quite comfortably from Jon Hazelwood and David Crompton. In round 3 the track was shortened slighty to remove the dirt corner that had become dangerous for the marshalls. In this round Neil obliterated the opposition and raced to a time that nobody could get within a second a lap of, Paul Bradby took second in round but 7 seconds behind the rampant RC8 and the next driver was Adrian Svensson who was 10 seconds adrift.This left the top 5 with Neil Cragg, Jon Hazelwood, David Crompton, Dave Bailey and Paul Bradby.

The weather had not improved the following morning and with half the pitting area under water the decision was taken to cancel the finals and take the results from qualifying.
Source: CML [cmldistribution.co.uk]
---