May 21, 2007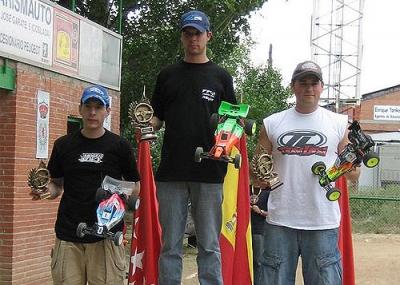 The 2nd round of the Spanish 1/10th electric Buggy Nationals took place last weekend at the Coslada track near Madrid. In the 2wd class it was top 1/8th scale buggy racer Borja Hernandez that took the win driving his Losi XXX CR ahead of fellow Losi racer Alberto Garcia in 2nd while 3rd place belonged to Alberto Cano. In the 4wd class Alberto Garcia was once again in form, taking the win from JConcepts racer Enrique Fucinos in 2nd with 3rd falling to 2wd winner Hernandez.
Click here for the final results…
2WD Results:
1. Borja Hernandez
2. Alberto Garcia
3. Alberto Cano
4. David Bustos
5. Javier Aguero
6. Jonathan Reguera
7. Nestor José de la Fuente
8. Miguel Koide
9. Fernando Gallardo
10. Eduardo Prieto
4WD Results:
1. Alberto Garcia
2. Enrique Fucinos
3. Borja Hernandez
4. Javier Aguero
5. David Bustos
6. Jose Miuel Cantos
7. Eduardo Prieto
8. Zacarias Villalba
9. Pablo Landaburu
10. Francisco J. Carreno
Click here to view a full gallery from the event.
Source: Coches RC [cochesrc.com]
---