May 13, 2007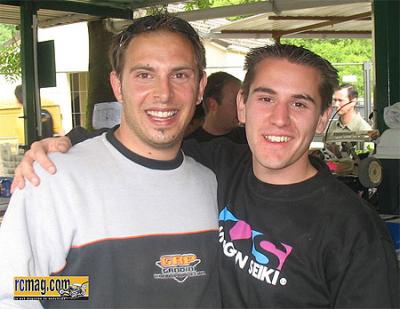 French Kyosho driver Jerome Aigoin has carried through his quick pace from qualifying into the main race, to win todays top final at the French EFRA GP, held at this years European Championship track in Auxerre. Jerome only lined up in 3rd position after a finishing 3rd in the fastest semi final but he had the pace when it mattered and could take the lead which he could extended to almost 1 lap, to win ahead of fellow French racer Renaud Savoya driving a Mugen. The final podium spot went to Italian Crono racer, and current Italian National Champion, Davide Tortorici who was only 5 seconds behind Savoya while the Mugen of Daniel Vega came home 4th. Pole position sitter after the semis was current European Champion Yannick Aigoin who came home 12th and was the only non finisher, running into trouble at 25 minutes, which ended his race.
Click here to see the final finishers…
1. Jerome Aigoin (FR) – Kyosho/Sirio
2. Renaud Savoya (FR) – Mugen/Ninja
3. Davide Tortorici (IT) – Crono/Falcon
4. Daniel Vega (ESP) – Mugen/Ninja
5. Robert Gustafsson (SE) – XRAY/OS
6. Guillaume Vray (FR) – Mugen/RB
7. David Spashett (UK) – Losi/Novarossi
8. Jon Hazlewood (UK) – XRAY/OS
9. Daniel Reckward (DE) – Kyosho/RB
10. Borja Hernandez (ESP) – Mugen/Ninja
11. Nicolas Rodriguez (FR) – Crono/Falcon
12. Yannick Aigoin (FR) – XRAY/RB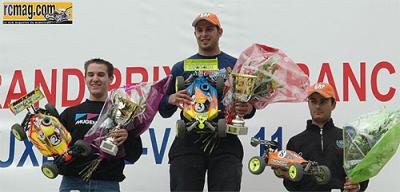 Click here to see the final times.
Source: RC Mag [rcmag.com]
---