May 2, 2007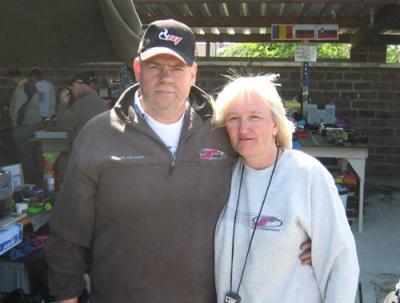 As part of the fun and festivities in Roeselare for this weeks European B Championships for 1/10th 200mm, the organisers are doing some interviews with the first of those published being with Karl Heinz Meister. Many of you know Karl Heinz as the man behind the super fast KHM hand tuned engines that were sold a few years back, but he is also a very fast driver with some great results behind him and this week he is racing in Belgium with an eye on the final.
Read the full interview here…
Driver info:
– Karl-Heinz Meister
– Germany
– Serpent 720 Mega MF-12
– 22-years R/C racing experience
– Sponsors: Serpent Motorsport

Q – What do you like about R/C racing?
KHM – The interviews (laughing …) !!! The technical part of the car, the mechanics. Also the engines are a fine piece of engineering. It's all so small, but still perfectly made.

Q – If there was something you would change, what would it be?
KHM – The tyres, every circuit has a kind of tyre that Works best for a driver on that track. And it's very expensive to have all those different kinds of tyres. So I would suggest everyone drives with the same tyres.

Q – What do you think of this track, and the organisation?
KHM – The track is very fast and also technical. There is very good grip, just the way I like it. The organisation is also very good, everyone sticks to the schedule, so there are no problems.

Q – Why did you choose R/C racing as your hobby?
KHM – I used to race with motorcycles, but I had an accident. In the hospital, I was laying next to someone who raced R/C cars. We started talking. And from one thing came an other.

Q – What are your best results in your racing career?
KHM – I became 2 times fourth at an European Event. That was in Rucphen (NL) in 1990 and in Paris (FR) in 1992. Also I was 12th in the world championship in Thailand in 1995. And in 2002 I was German champion.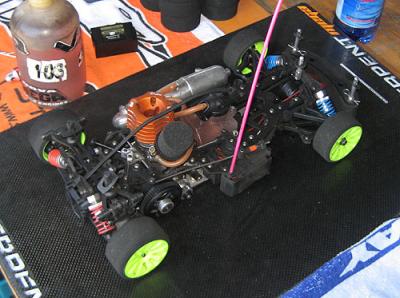 Q – How do you think you will perform in this event?
KHM – I would like to get into the semi-final. But the final would be excellent.

Q – I see your wife joins you every event. How does you wife help you ?
KHM – She's a mechanic for me in the pits. She helps fueling up the car, but all preparations to the car are left for me and my other mechanic (Michael Salven).

Q – How are you performing today?
KHM – Very good, but I want to be even faster. I hope I can win 0.3 seconds in the next few days.

Q – What do you prefer 1/10 or 1/8 scale?
KHM – I prefer 1/8 scale, because it's much more aggressive. The power of 3,5 cc engines is huge compared to 2,1 cc engines. A one tenth scale car is also fun to drive, it's a very easy handling car compared to a 1/8-scale car.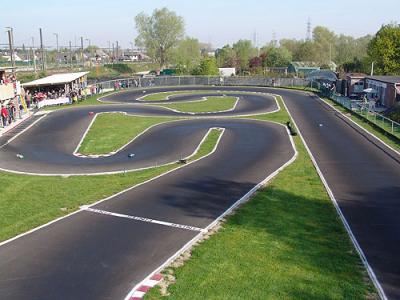 Interview by Robin D'Hondt
---