May 29, 2007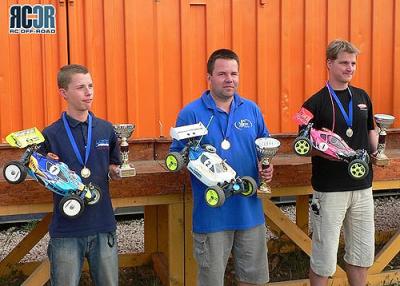 A quick update on the 2nd round of the Hungarian 1/8th scale buggy Nationals that took place last weekend in Szolnok. The race was won by Ninja powered Mugen racer Pall Csaba while Kyosho racer Orsovai Dezso took 2nd place with the 3rd spot going to Szebelledi Laszlo racing a RB powered Xray XB8EC.
Click here for the final results…
1. Palla Csaba – Mugen MBX5R / Ninja
2. Orsovai Dezso – Kyosho MP777 SP2 / RB
3. Szebelledi Laszlo – XRAY XB8EC / RB
4. Vasvari Pal – XRAY XB8TQ / RB
5. Laza Tamas – XRAY XB8TQ / JP
6. Koncz Gyorgy – HongNor X1CR Pro / OS
7. Jun. Nagy Sandor – Carson Specter RE / OS
8. Kozma Peter – HongNor X1CR Pro / OS
9. Kurucz Ferenc – Mugen MBX5 ProSpec / Ninja
Click here for an image gallery from the event.
Source: RC Off Road [rcoffroad.hu] via Buggy Sport [buggy-sport.info]
---