May 1, 2007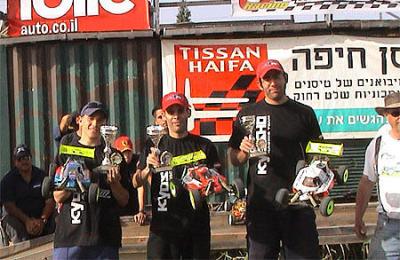 Our partners RC Zone in Israel have written to us to report on last weekends Israeli Endurance race took place at the Hot-Wheels racing club. The event attracted many top drivers from all over the country to participate in the event. Each team consisted of 3 drivers, and with the race 3 hours long, each driver in the team had to run for 1 hour making it a true test of endurance for both man and machine. The event was won by Team Kyosho who came out on top by 2 laps ahead of the Pro Line Racing Team in 2nd while Team GS finished 3rd a further 4 laps back, pretty close running considering the length of the race.
Click here to see the final results…
1- Team Kyosho – 212 Laps
2- Pro Line Racing Team – 210 Laps
3- Team GS – 206 Laps
4- Team X-Ray – 205 Laps
5- Team Hotwheels – 201 Laps
6- Xray Sport – 185 Laps
7- Top Gun – 184 Laps
8- DGD – 63 Laps
9- Nitro Ice Cream – dsq
You can also download a video from the event here (WMV).
Source: RC Zone [rczone.co.il]
---