May 23, 2007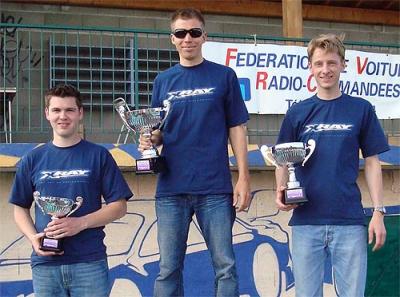 Xray are reporting on their site from last weekends European Championship warm up race held in France in the small city Montbrison, not far from Lyon. Thursday free practice had been lost due to rain but the weather picked up Friday lunch time for the rest of the weekend and so the racers could get some practice runs in, prior to Saturdays qualifying. Teemu Leino set the pace in qualifying for Xray while Tamiya racer Loic Jasmin was 2nd with another Xray in 3rd driven by Aurélien Threhout, in fact 8 of the 10 finalists drove Xray.
Teemu was unbeatable in the Sunday's finals and won all three rounds. He showed not only the car's performance but also his driving skills especially in the first final when he tried a not-so-good additive and was sliding around the track for the first 3 laps; however, he did not give anyone a chance to pass him and after few laps he was able to pull away. Jilles showed his enormous talent as well and he finished in overall 2nd position from his 8th qualifier post. Bart Wubben was lucky in the finals as well and finished 3rd from his 9th place and showed that he is the driver that would join the top drivers very soon.
Read the full report here.
Source: Xray [teamxray.com]
---