June 26, 2007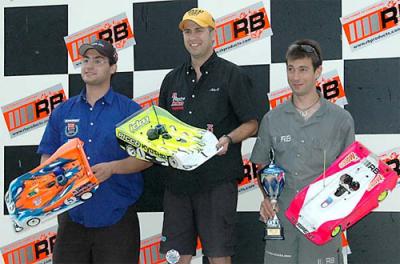 The French EFRA GP was held last weekend at the super fast Grenoble track in the South of France, near Lyon. Weather was good for most of the event and on a track that required a fast engine that was not thirsty on fuel it was Kyosho racer, and Picco employee, Daniele Ielasi that took the pole position ahead of Alberto Picco, racing a Mugen, while the final 2 direct qualifiers were Shepherd Velox racer Robert Pietsch in 3rd and French Championship front runner Nicolas Guillot racing for Mugen in 4th. Before the final it start to rain quite heavy and this meant that a number of drivers didnt take the start including Picco, Guillot and Bertin, who ran with a JP motor at this race, and left the other racers struggling to find the best tyres for the changing conditions. After a small rain delay, the event got underway and Ielasi and Pietsch immediately pulled away at the front, leaving the rest of the field to battle for the lower places with the chasing pack being headed by Mugen driver Walter Salemi in 3rd. With 7 minutes to go, Pietsch ran into radio problems which took him out a certain 2nd place and promoted Salemi into the runner spot, which is how it finished, with Ielasi winning by a lap from Salemi in 2nd and Serpent racer Arnaud Chaussard in 3rd.
Click here for the final standings…
1. Daniele Ielasi – 72L (Kyosho)
2. Walter Salemi – 71L (Mugen)
3. Arnaud Chaussard – 69L (Serpent)
4. Robert Pietsch – 53L (Velox)
5. Marco Vanni – 41L (Mugen)
6. Adrien Siegfried – 40L (Kyosho)
7. Steven Cuypers – 1L (Serpent)
8. Alberto Picco – DNS (Mugen)
9. Nicolas Guillot – DNS (Mugen)
10. Adrien Bertin – DNS (Kyosho)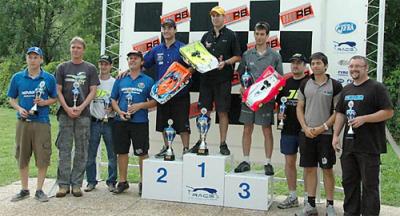 Click here for lots of pictures from the event.
Source: JP Racing [jpracing.com]
---