June 6, 2007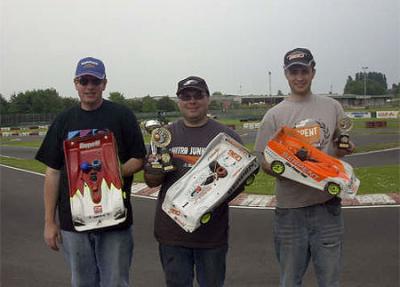 Last weekend saw the 4th round of the 1/8th scale BRCA National Championship run under sunny skies at the Wombwell track in South Yorkshire. Qualifying saw a tight battle that left Serpent team driver Mark Green at the top of the field, closely followed by team mate, and round 3 winner, Richard Hicklin in 2nd while 3rd place qualifer was Andrew North. At the start of the final Mark Green started to pull away from the rest of the field leaving the real battle to be fought out behind him. Richard Hicklin was in with a shout of a podium, as was Neil Diver until they hit problems leaving Andy North up into 2nd place until a broken plug dropped down the order. At the end of the 30 minuted final it was a clear win for Mark Green with Mugen racer Peter Hastings in 2nd, 3 laps back, while 3rd place went to Serpent racer Tim Wood, a further lap back.
Click here for the final results…
1. Mark Green – 99L / 1800.21
2. Peter Hastings – 96L / 1814.69
3. Tim Wood – 95L / 1811.57
4. John Carr – 94L / 1809.13
5. Andrew North – 94L / 1815.90
6. Neil Diver – 90L / 1722.15
7. Chris Edwards – 90L / 1801.89
8. Richard Hicklin – 63L / 1268.25
9. Chris Heath – 2L / 64.66
10. Dave Dixon – 1L / 19.39
You can read a full race report here.
Source: BRCA [brca.org]
---