June 1, 2007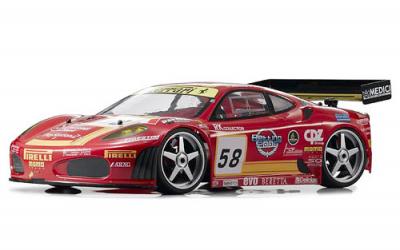 Kyosho have contacted us to tell us about their new Inferno based Ferrari F430 GT. The chassis, suspension and drivetrain are highly refined for durability and performance under the most demanding conditions, which gives the Inferno GT the highest pedigree of its class. There's simply nothing else available on the market with the bloodlines of the GT, so be confident you're getting the ultimate value and performance with the Inferno GT.
Read more…
A powerful, easy-to-tune GXR .28 (4.6cc) engine is at the heart of the GT. The engine features a large cylinder head for improved cooling, and a two-needle slide valve carburetor for precise tuning and crisp throttle response. A centrifugal clutch gets power to the included 2-speed automatic transmission, which features updated gearing that should push top speeds even higher.
The shaft drive system, developed over decades of high-level competition around the world, gets power to the wheels very efficiently, and is the standard by which all others are judged. It's incredibly durable and low-maintenance, which means you get to spend more time running your car.
The 4-wheel independent suspension features oil-damped coil-over shocks with threaded spring pre-load adjusters. That means that you can change ride height and handling characteristics with a quick twist of the pre-load collar. The beefy suspension is as tough as it gets, allowing the car to drive away from big impacts that would cripple other cars. The suspension is also very versatile, allowing easy adjustments to handle just about any type of running surface. Standard size 17mm hex hubs attach the wheels to the driveshafts. Special wheels with low-profile tires are included with the car, but any street or 1/8 buggy tire will adapt to the Inferno GT.
The Inferno GT comes completely factory assembled with a fully detailed and trimmed body that's ready to mount. Fuel and alkaline batteries for the receiver, transmitter and glow starter are all that's needed to get running.
The Ferrari F430 GT is the racing version of the latest performance machine to come from the famous Ferrari factory in Maranello, which is the body that graces this version of the Inferno GT. The F430 GT is the racing version of the F430 street machine, stripped down to the essentials to reduce weight to just 1100kg, which gives the 500 horsepower machine a healthy power to weight ratio that will easily pin you in the back of your seat when you stand on the accelerator. This is an officially licensed product, which means it's passed the incredibly tough standards that ensure only the best products carry the Ferrari name.
Included features:
• Factory-assembled chassis with pre-set throttle and steering linkages.
• Mounted GXR28 with pull-starter.
• Aluminum manifold and tuned pipe
• Two-channel KT3 pistol-grip transmitter with 2 servos.
• Factory-painted, trimmed and completely detailed body.
• Double C-cell plug heater (batteries not included)
• Fuel bottle

Required for operation:
• 12 AA-size alkaline batteries (to power transmitter and receiver)
• 2 D-cell alkaline batteries for glow plug heater
• 20-30 percent nitro fuel
Specifications:
Length: 18.90 in. (480mm)
Width: 12.20 in. (310mm)
Height: 5.31 in. (135mm)
Wheelbase: 12.80 in. (325mm)
Tread (F/R): 10.31/10.43 in. (262/265mm)
Tires: (97×48mm)
Approx. weight: 116.4 oz. (3300g)
Engine: GXR28 4.6cc engine w/recoil starter
Source: Kyosho America [kyoshoamerica.com]
---