June 10, 2007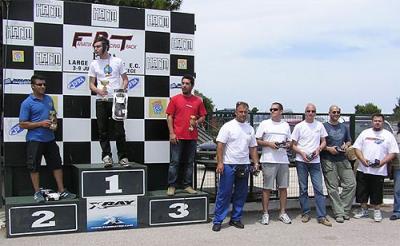 Xray are reporting on their site from last weekends opening round of the Greek Gas Open / Xray Challenge held at the Fanatix race track. Qualifying for the event saw Xray NT1 racer Louis take the pole position ahead of team mates Halim and Antoniou in 2nd and 3rd respectively.
After a very fast start for the 45min final Louis and Karabelas were fighting for 1st place. After a small incident between the two Louis went for some repairs and Vrettos took the chance to lead with Halim and Loukakis in the same 5sec gap until 35min mark of the race. Karabelas went for a tyre change (so did Halim) so other drivers with different strategy found the opportunity to climb positions.
Loukakis took the win to lead home and Xray NT1 1,2,3,4 with Vrettos in 2nd, Petris in 3rd and Papamathaiou in 4th.
Read the full report here.
Source: Xray [teamxray.com]
---