June 17, 2007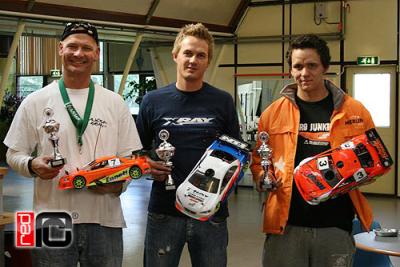 This weekend saw the rain affected 3rd round of the Dutch National Championship for 1/10th 200mm take place at the small technical Gouda track in the center of the country. The first rounds of qualifying saw a wet track for all the racers but this cleared up and allowed some quick times to be set, the quickest of which being set by round 1 winner Jilles Groskamp with his Xray NT1. Just before the semi finals were to be run it started to rain once more which made conditions very tricky, but this started to dry up and by the time the final came around the track was partly dry but still pretty slick in some areas, despite this almost everyone started with a dry setup. In the final it was Jilles that could master the conditions best and built a clear lead up until 8 minuted before the end, when his engine stalled, handing the lead to round 2 winner Maarten van Lierop who went on to take the win from Richard Keur in 2nd and current National Champion Remy Moller in 3rd.
In the supporting classes, there was a win the in the Nomac class for Serpent racer Pedro Rombouts with Daan Stuiver close behind in 2nd and Rene Lijnzaat in 3rd.
Click here to see the final results…
NK 1/10th
1. Martin van Lierop – 92L
2. Richard Keur – 91L
3. Remy Moller – 91L
4. Jilles Groskamp – 88L
5. Ruud Schuitmaker – 87L
6. Bas Guerds – 76L
7. Fedor Eskes – 72L
8. Bart van de Water – 59L
9. Ruben D'Arco – 20L
10. Sande Borghoff – DNS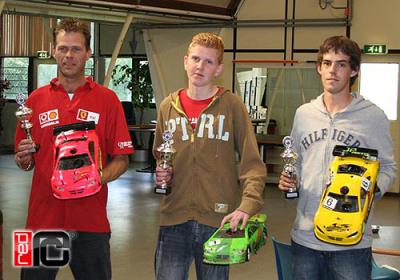 Nomac 1/10th
1. Pedro Rombouts – 69L
2. Daan Stuiver – 69L
3. Rene Lijnzaat – 65L
4. Ricardo van Dam – 61L
5. Dave de Ruiter – 61L
6. Jurmin Etnel – 61L
7. Ishmail Ihsane – 48L
8. Hans Buschman – 7L
9. Julien Smit – 2L
10. Arco de Jong – 0L
Thanks to Ruben for the report and photos.
---