June 10, 2007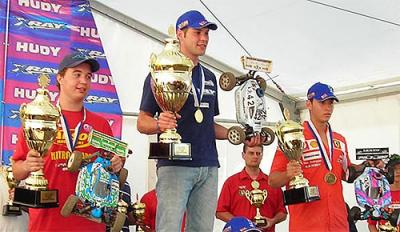 As we reported yesterday, the European 'B' Championships for 1/8th scale buggy was run this week at the MSC Sand track in Germany. Today saw all the main finals run and after the semi finals it was German Xray driver Oliver Simon that stamped his mark on the event by winning his semi and taking the pole position for the main final. In the race itself it was a close battle between Simon and fellow German racer Stefan Scheuenpflug, racing for Carson, with the pair split by only 4 seconds at the end of the 30 minute final that saw Simon crowned the European 'B' Champion, with Scheuenpflug in 2nd and 3rd place going to Spanish racer Juan Camilo Rodriguez.
Click here to see the final results…
1. Simon, Oliver (DE) – 64L 30:10,825
2. Scheuenpflug, Stefan (DE) – 64L 30:14,140
3. Rodriguez, Juan Camilo (ESP) – 63L 30:01,337
4. Macek, Denis (DE) – 63L 30:05,684
5. Karner, Martin (A) – 63L 30:28,001
6. Bayer, Martin (CZ) – 63L 30:28,462
7. Braun, Florian (DE) – 62L 30:05,834
8. Wiesner, Tom (DE) – 62L 30:22,069
9. Klatovský, Petr (CZ) – 62L 30:27,340
10. Achter, Martin (DE) – 51L 30:24,567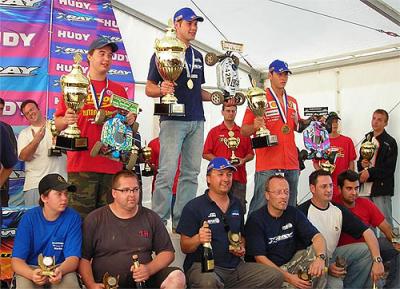 Click here to see the full final results (PDF).
Source: MSC Sand [eurob2007.mscsand.de] Images: Xray [teamxray.com]
---