June 21, 2007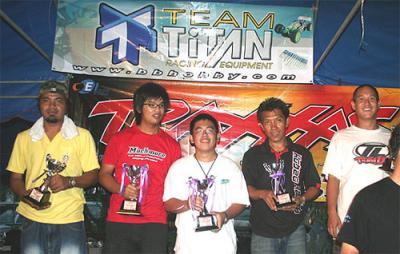 Last weekend saw the 4th round of the Thailand Buggy Party championship held on the grass surfaced R.C. Mania Track. Qualifying saw Kyosho racer Panit B. take the pole position for the final ahead of former National Champion Yuthana D. driving a Hobao in 2nd. In the final Panit B. could easily lead from the start but a timing error at 18 minutes meant the race had to be stopped and a second part of the final run for 12 minutes, with the results added together. This didnt seem to affect the outcome and it was man of the day Panit B. that took the win by nearly a lap from Hongnor racer Meen V. in 2nd while Yuthana D. claimed 3rd.
Click here for the final standings…
Combined results:
1. Panit B. – 40L 31.28.643 (Kyosho MP777SP2)
2. Meen V. – 39L 30.32.748 (Hongnor X1-CR)
3. Yuthana D. – 39L 30.59.480 (Hobao Hyper8)
4. Aeknarin – 37L 29.55.458 (Hongnor X1-CR)
5. Nattorn S. – 37L 30.57.385 (Team Losi 8ight)
6. Charlee P. – 35L 25.82.725 (Mugen MBX5R)
7. Reef S. – 32L 30.48.774 (Team Losi 8ight)
8. Premsak K. – 29L 27.24.431 (Mugen MBX5R)
9. Surasak – 23L 20.05.583 (Kyosho MP777SP2)
10. Champ Kuntien – 15L 12.05.880 (Thunder Tiger EB4S3)
View the full gallery from the event here.
Source: Nitro Party [nitroparty.com]
---