July 2, 2007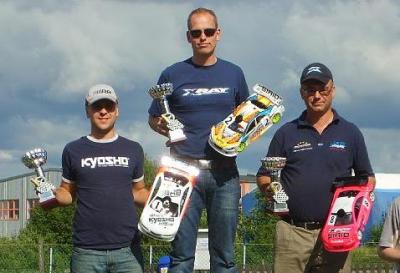 Last weekend in Sweden saw the Nordic Championships for 1/10th and 1/8th scale cars run at the Vast-8 track in Gotheburg. In qualifying it was Kyosho racer Roland Ström that took the 1/10th scale top qualifying spot while in the 1/8th scale class it was again a Kyosho, this time driven by Marcus Lindner that took the class TQ. In the 1/10th scale final it was a win for Xray NT1 racer Martin Cristensen, who took the lead after pole man Ström ran out of fuel just before the end, while in the lead, eventually finishing 2 laps behind in the 2nd position while in 3rd spot it was a close race between eventual 3rd place finisher Niklas Håkansson and 4th placed Per Ola Hard, the latter losing a lot of time in a crash mid race. In the 1/8th scale race, a lot of the front runners like Mikael Fransson, Martin Christensen, Christoffer Hallborg and pole man Marcus Lindner all ran into problems which allowed Roland Ström, racing a Kyosho to take the win by 5 seconds from 2nd placed Serpent driver, Bengt Andersson, while Niklas Johansson came home in 3rd, 1 lap behind the leading pair.
Click here for the final results…
1/10th Results
1. Martin Cristensen – 168L 45.09.01
2. Roland Ström – 166L 45.01.95
3. Niklas Håkansson – 162L 45.11.01
4. Per-Ola Hård – 162L 45.13.21
5. Mickael Brandt – 157L 45.12.98
6. Jimmy Bigum – 141L 43.20.61
7. George Ellingsen – 112L 45.04.44
8. Tom Erik Haaversen – 81L 26.52.16
9. Magnus Wiklund – 36L 15.13.04
10. Frank Andersen – 29L 8.34.71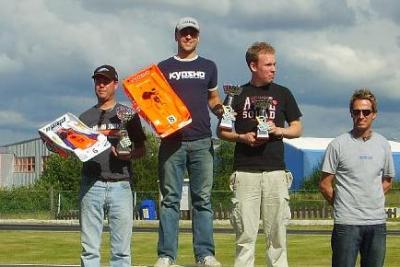 1/8th Results
1. Roland Ström – 181L 45.03.82
2. Bengt Andersson – 181L 45.08.21
3. Niklas Johansson – 180L 45.05.81
4. Svein Harald Ytternes – 175L 45.10.75
5. Magnus Bengtsson – 175L 45.11.43
6. Mattias Ericsson – 174L 45.12.94
7. Marcus Lindner – 143L 37.47.58
8. Mikael Fransson – 75L 18.15.27
9. Christoffer Hallborg – 58L 16.07.73
10. Martin Christensen – 37L 9.06.49
View a full gallery from the event here.
Source: Vast 8 [vast-8.se]
---