July 4, 2007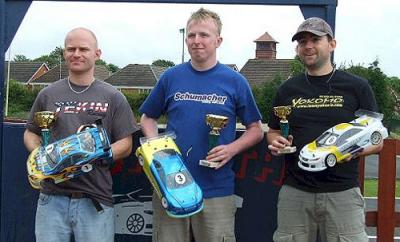 While the Modified and 27T guys were racing their 4th National round in Snetterton, the 19T Super Stock guys had their National in Bedworth, but unfortunately it was affected by rain with most of Saturday a wash out, meaning no practice for the racers present. Onto qualifying and it saw Russell Williams claim the TQ on an improving track, followed by championship leader Chris Kerswell in 2nd and Dewi Jones in 3rd while the 4 cell class saw Mike Hanford Jnr take pole from Bob Burr in 2nd and Adrian Adames in 3rd.
Continue Reading…
The 1st 4 cell final saw a totally dry track and Mike Hanford Jnr took an easy win despite a tyre coming off late in the race. There was panic before the 1st 19T A final as the heavens opened minutes before the race started. As everyone rushed to get their cars changed for the now soaking conditions Russ Williams and Chris Kerswell failed to make the grid in time and suffered 10 second penalties. Russ tried his hardest to pull away at the front to overcome the penalty, whilst Chris Kerswell had to retire with technical issues. At the end of the race Russ finished 1st ahead of Dewi Jones, Keith Robertson and Chris Delves, but due to his penalty Russ dropped down to 4th, handing the win to Dewi.

Due to the wet weather the 4 cell drivers opted not to run the 2nd leg so Mike Handford Jnr took the overall win from Bob Burr and Adrian Adames. The sun came out for the 2nd 19T A final and the track was mixed between damp and dry. A messy start saw Dewi get away cleanly and Stuart Cann moved up from 8th on the grid to 2nd after the 1st lap. As the race went on Dewi just managed to pull away slightly from Stuart who was more concerned with a closing Dominic Carter and a recovering Russ Williams. Dominic and Russ caught Stuart with a couple of laps to go but Stuart just managed to hold them off for 2nd ahead of Russ whilst Dewi took a comfortable win and with it the overall victory for the day. Russ finished 2nd overall from Stuart.
19T Super Stock Results
1. Dewi Jones – 2pts
2. Russell Williams – 7pts
3. Stuart Cann – 10pts
4. Keith Robertson – 11pts
5. Mark Musgrove – 12pts
6. Christopher Delves – 13pts
7. James Hart – 13pts
8. Dominic Carter – 13pts
9. Steve Lissamore – 14pts
10. Chris Kerswell – 15pts
Source: BRCA [brca.org]
---