July 21, 2007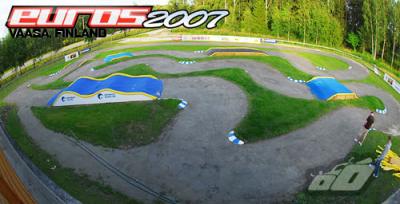 Starting next week, Europes best electric buggy racers collect in the center of Finland, in a place called Vaasa, to battle it out in 2wd and 4wd to be crowned the 2007 European Champion. Drivers have already started arriving and our partners oOple are there too, and combined with his racing Jimmy & wife Vicky will be covering the full event. Fridays report is already online, covering the travel to the event as well as the first impressions of the track.
The track is quite large and all 'features' are covered in carpet to give a consistent surface. The largest jump is at a slight angle next to the drivers stand. It's a large double but with a slight step-down on the back side. Neil and Paul had practiced here a few weeks ago and mentioned that it was easy to over-jump this and certainly the take off ramp (on the left) is huge.
Follow the daily event coverage here.
Source: oOple [oople.com]
---