July 9, 2007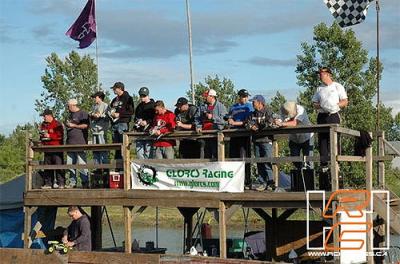 We received a report from round 3 of the Great Lake Championships hosted by Gatineau Radio Control Club. In the pre race drama that unfolded GRC was forced to move locations from their track in Quebec. City officials decided at the last minute that a new location was in store but neglected to take into consideration the plans already developed. However Lee from Radio Active Hobbies came to the rescue and offered his track "weekend warrior raceway" in Desoronto Ontario.
Click to read the full round 3 report…
GRC guys and gals worked feverishly until the track was ready. WAS it EVER! Ready. Hardened clay surface made for a very fast and technical track. Not to mention a pond behind the drivers stand. (there were some victims see picture) Friday practice went off beautifully. The sky was clear the temperature was perfect and the tree's over the pits area offered some relaxing shade. Saturday unfolded a lot differently. All but one qualifier was rained out and that qualifier was delayed numerous times. It was hard to believe because 45 minutes away the sun was shining with no clouds in the sky.
Day 3 Sunday was a different story. The clouds stayed but the rain held. Racers ran a quick qualifier and after the gambit of mains, winners were crowned.
Gareth Houben had a great weekend. Running his Losi8 in buggy he finally captured a Glorcs win and in the process took it away from TQ Mike Burr. Gareth has being doing well in Truggy this year but has had difficulty landing a top spot over Andrew Phillipe and Mike Burr. Truggy was a new story altogether. Mike Burr held a strong race coming out as TQ he was the man to challenge. Mike and his Mugen ran a strong race holding back Gareth who had been running full tilt behind him. Monster truck veteran driver Martin Petre (TQ) ran a flawless race. The track at Weekend Warriors had been hard on this class. Many competitors made mistakes that landed themselves in pit row. Martin held off his competition and sailed to a victory over David Ivichek and John Bakker.
1/8 scale buggy
1. Gareth Houben (Team Losi, Werks Racing, Sidewinder Fuels )
2. Ben Wheeler
3. Mike Burr (Mugen Racing)
Truggy
1. Mike Burr (Mugen)
2. Gareth Houben (Losi, Werks, Sidewinder)
3. Andrew Phillipe (Jammin Racing)
Monster Truck Unlimited
1. Martin Petre
2. David Ivichek
3. John Bakker
Source: GLORCS [glorcs.com]
---