July 11, 2007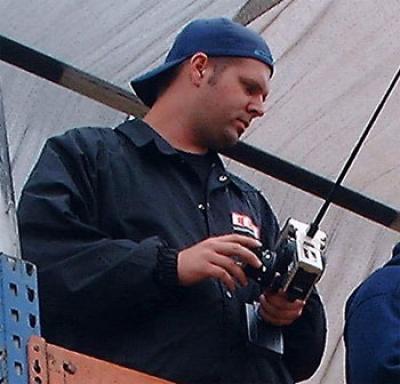 We received a report from top CEN racer Gene Hickerson from the 8th round of the the FSORS, which is one of the largest series in the USA, that sees 6 of the 8 rounds count towards the Championship. This final round of the series was hosted by the Hurricane R/C Club in Tampa and this round attracted 152 entries in both buggy and truggy classes.
Read the full report…
1/8 Truck:
CEN Racing's Joey "Batman" Perez taking TQ in round 1 with his Matrix TR Arena. This was his 1st race with the CEN truck, having just finished the build on Friday. In round 2, it was again all Team CEN with Gene "the machine" Hickerson taking the overall TQ. The 5th TQ of the series by Hickerson clinched the Series Championship, giving him his 3rd FSORS Championship in 3 years. In the Main event, Hickerson took the early lead, followed closely by Tony Pattishall. About 5 minutes in, Hickerson flamed out and blew a glow plug to end his day as the Series Champion. Xray's Leon McIntosh worked his was from 2nd position on the starting grid to battle with Pattishall, but it was Pattishall who took the win, followed by JJ Turk in 3rd. Team CEN Racing took 1st and 2nd place in the Championship with Kyle Sokol in 2nd. While Privateer's, Anton Watson, Tony Pattishall, and Jesse Olsen, also all drove a CEN Matrix TR Arena during the year to a top 10 finish in the series.
1/8 Expert Buggy:
TTR's JR Mitch took TQ in round 1 & 2. With the title still undecided, JR Mitch, Ryan Eckert, Gene Hickerson, and Jason Ruona were all ready to battle in the Main event. At the start of the A-main, Hickerson and Ruona moved from 4th & 5th to 1st & 2nd. Ruona took the lead from Hickerson several laps later as they stayed bumper to bumper for the next 5 minutes. Hickerson then took back the lead as Ruona made a mistake. After stretching a 12 second lead by the 9 minute mark, Hickerson ran out of fuel on his pit lap. That gave Ruona back the lead as he lapped the whole field. Hickerson rejoined the race back in 7th, 1 and a half laps back. He worked his way back into 2nd, and unlapped himself from Ruona to finish on the lead lap. J-Concepts Jason Ruona took the win, followed by Gene Hickerson and AJ Johnson in 3rd. Mitch dropped out early, while Kyosho's Ryan "Showtime" Eckert finished 5th. That gave Eckert the Championship, followed by Ruona, Mitch, Mazur, and Hickerson rounding out the top 5.
1/8 Scale Truck
1. Gene Hickerson
2. Kyle Sokol
3. Anton Watson
4. Tony Pattishall
5. Chris Shadron
6. Glenn Napurski
7. Duane Sizemore
8. Steve Szykulski
9. Larry Bergeron Jr
10. Jesse Olsen
1/8th Scale Buggy
1. Ryan Eckert
2. Jason Ruona
3. JR Mitch
4. Gary Mazur
5. Gene Hickerson
6. Leon McIntosh
7. Michael Jones
8. Michael Delay
9. Nathan Wincer
10. Chris Swauger
Source: Gene Hickerson
---