July 20, 2007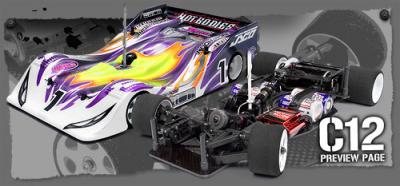 We first wrote about the Hot Bodies Cyclone 1/12th scale car, when it was shown for the first time in Nuernberg at the beginning of the year, we later mentioned it when it won the European Championships in the hands of Andy Moore. No Hot Bodies have released full product information and lots of pictures of this car, the all-new Cyclone 12 pan car. This is an entirely new car from Hot Bodies that will be released in time for the 2007-2008 indoor racing season and features 100% Hot Bodies parts, the Cyclone 12 doesn't use any recycled parts from another supplier, it is completely fresh and all HB.
Click more to see photos and the full product details…
Chassis
The all-black chassis is set off with just a few selected bits of purple anodized aluminium to give it an ultra-cool sleek racing look. The main chassis is cut from a single sheet of lightweight stiff woven carbon fibre and has cut-outs for reduced weight at the front end. A wide front bumper will be supplied with the kit but is not shown in these exclusive prototype pictures.
Suspension
The front suspension features 3-way adjustable reactive caster for the ultimate in modern pan car handling. Convenient clips are used to adjust the caster angle, making it quick and easy to try new suspension settings. The front wheels are held in place using metal locknuts for security and convenience.
Unique Servo Mount
A micro-size servo is held in place with the most unique servo mount ever seen on a 1/12th scale car. To prevent chassis tweak and provide absolutely equal flex left and right, the servo is mounted exactly in the middle of the chassis using the Hot Bodies Centre Servo Mount. This superb mounting system mounts the servo as low in the chassis as a standard two-piece mount, yet uses a single central mount to attach to the chassis. This gives the driver unparalleled consistency when going through turns, and an advantage over any other chassis design.
Finally a Battery Holder That Works
Securing the batteries in place is an unprecedented tool-less battery strap system that is new to any RC car of any scale. The Cyclone 12 uses battery trays and unique, never before seen hinged straps to provide you with safe and strong battery security. The strap system makes it fast and simple to take out and replace your batteries – no more messing about with sticky and messy tape, no tools to use, and best of all it's fast!
Unique Shock Absorber
The rear suspension uses a new Hot Bodies fibreglass T-bar with 3 separate tweak screw locations to fine-tune the suspension dynamics. The highlight of the rear suspension is a totally new and exclusive micro shock that is designed and assembled just like a modern touring car damper – a rubber bladder fits over the top and the bottom cartridge utilises an o-ring seal. The threaded aluminium body also uses screw-on aluminium top and bottom caps to keep everything in place.
Rear Pod
In the rear, the motor pod is made up of two aluminium sides, carbon fibre bottom, carbon fibre damper plate and an aluminium tube. This gives you a secure, stiff and reliable rear pod for mounting the motor. The motor is easy to access and remove from the top, and the pod is large enough to easily fit any brushless motor.
Rear Axle
The rear axle is also a new design made specifically for the Cyclone 12: it is a two-piece design that is easy and quick to rebuild when needed, providing a lightweight yet very strong transfer of power directly to the rear wheels.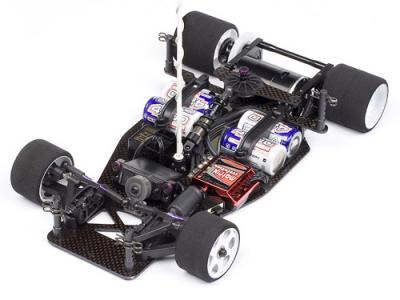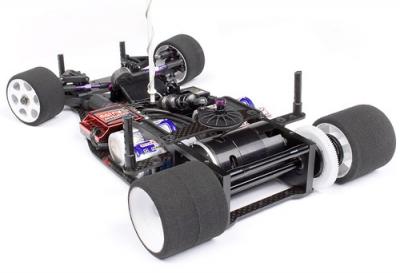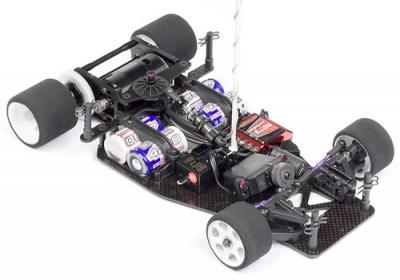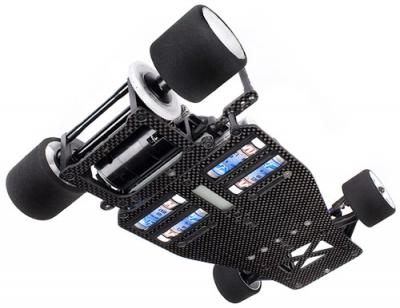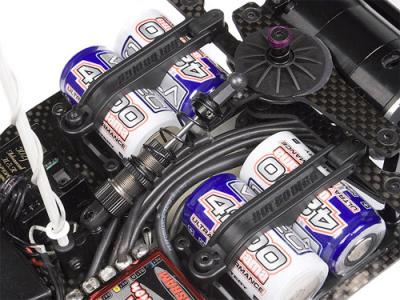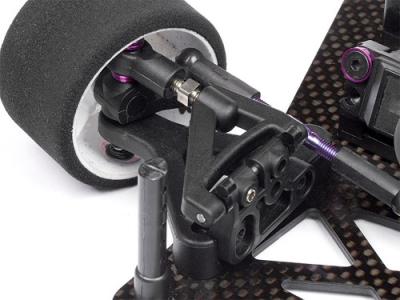 Source: Hot Bodies [hbeurope.com]
---