July 27, 2007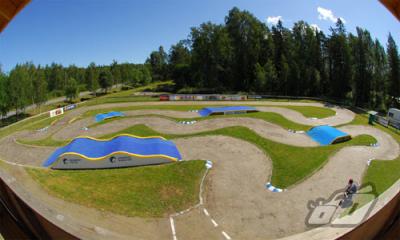 With the 2wd class at this years Euros in Finland finished, the racers have gotten out their 4wd buggies to go at it for the next title up for grabs, that of 4wd European Champion. As we reported previously, practice for this class started yesterday with Jörn Neumann setting the pace, along with Neil Cragg and Hupo Hönigl and today that was again the case but some did better than others in turning that pace into a result during qualifying. After 3 of 5 rounds of qualifying already completed, and with only 3 counting, it is Austrian Tamiya racer Hupo Hönigl that is in the hot seat claiming a 1st, a 2nd and a 4th postion while in 2nd overnight is Lee Martin, who also has a win and a 4th but had a bad run in the 3rd qualifier and ended with a 19th. In 3rd position is Richard Barton, while Neil Cragg is in 4th and Neumann who has shown pace since 4wd began managed the bag the win in the 3rd final, but poor results in the 1st and 2nd heats sees him down in 10th with some work to do tomorrow to secure his place in the A-final.
Click here to see the overnight top 10…
Standings after 3 of 5 rounds
1. Hubert Honigl
2. Lee Martin
3. Richard Barton
4. Neil Cragg
5. Richard Taylor
6. Richard Cree
7. Peter Pinisch
8. Tom Cockerill
9. Jussi Luopajärvi
10. Jörn Neumann
Read the great daily report from oOple here.
Source: oOple [oople.com]
---