July 3, 2007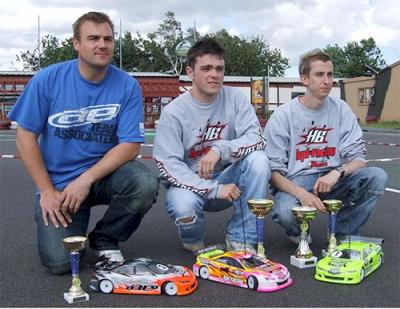 The 4th round of the BRCA National Championships for Modified and 27T Stock touring cars took place last weekend at the smooth Snetterton track. Qualifying in the Modified class saw pole position for World Champion Andy Moore, with team mate Olly Jefferies in 2nd and Craig Drescher in 3rd, while in the 27T class it was pole position for Schumacher racer Lee Price, 2nd spot went to Adrian Bidewell while 3rd spot belonged to Rob West.
Continue Reading…
Olly Jefferies took the first leg of the A final in front of Glen Doman, Glen had gambled on not using his tyres when the track was green and it nearly paid off as his fresh tyres gave him great pace for leg one, Craig was next up for Associated in third.

Leg two of the modified A final was a demonstration run for Andy and Olly with no repeat of the inter team battling we had seen in leg one, these two were clear of the chasing pack and it was Mark Gilliand who came home third for X-ray. Once the two finals had been added up Olly was declared the winner from Andy and Craig.

Lee Price led the first stock A final until he rolled in the technical in field at mid way, Adrian Bidewell was through and so was Rob West, a costly mistake for Lee which cost him the meeting, but not taking it away from Adrian who was super smooth with no mistakes and took the leg one win.

No mistakes for Lee in leg two but the damage had been done and second for Adrian was enough for the overall victory, some consolation for Lee was second overall with Rob West third.
Modified Results
1. Olly Jefferies – 3pts
2. Andy Moore – 7pts
3. Craig Drescher – 7pts
4. Mark Gilliland – 8pts
5. Glenn Doman – 8pts
6. Chris Grainger – 9pts
7. Darren Styles – 17pts
8. Alan Bickerstaff – 17pts
9. Andy Childs – 17pts
10. Colin Price – 17pts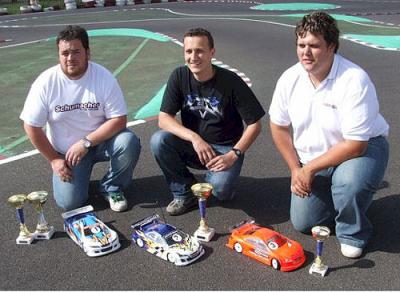 27T Stock Results
1. Adrian Bidewell – 3pts
2. Lee Price – 4pts
3. Rob West – 5pts
4. Gary Dyson – 11pts
5. Jon Winter – 11pts
6. Andrew Twigger – 11pts
7. Gavin Clinch – 15pts
8. Marcus Askell – 15pts
9. Luke Hobson – 17pts
10. Brian Shardlow – 18pts
Source: BRCA [brca.org]
---