July 31, 2007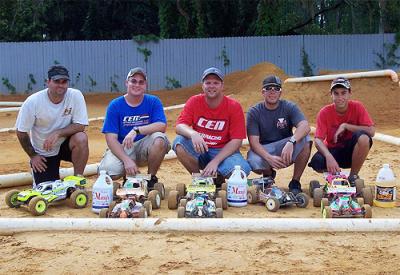 CEN team driver Gene 'The Machine' Hickersen has been in touch and provided us with a report from the 2nd round of the RC Pro East series which was held last weekend at Lake Park in Tampa, Florida.
Drivers came down to sunny FL from as far as North Carolina to compete for the East Coat RC Pro Championship. There was around 145 entries even with a 60% chance of rain. Friday was open practice on the fast and technical layout. JR Mitch was spotted driving his Team Associated RC8 for the 1st time since the ROAR Nationals last month. I drove really bad at the Nationals, as 63rd was by far the worst I have ever done at a National race in my 21 year racing career, so I was thinking about making changes to my car to find some extra speed to get back on pace.
Continue Reading…
Lake Park is only 1.5 hours from my house, so I am very familiar with the track. I am currently looking for a new engine sponsor, so I bought an OS Speed .21 for my buggy. I only practiced 1 tank with my buggy and once again, it was dialed right when it hit the track. There was nothing that I could possibly want my CEN Matrix buggy to do better, so I left the set-up the same and spent the rest
of the day working on my Truggy.
1/8 Pro Arena Truck
Saturday was scheduled for 4 rounds of qualifying. In round 1 of 1/8 Pro Truck, Ryan Eckert put his ST-R in TQ with a fast run, followed by Jammin's Brandon Cutchins and myself in 3rd. I drove the best I could, but I was off pace because I was lacking the engine power I normally have. Since I do not have any engines right now, I had to borrow a .21 engine to use in my Matrix TR Arena for the weekend. It ran well but did not have the bottom end of a .28 to clear the triple jumps. In round 2, Leon McIntosh put his XB8T into TQ position, followed by Eckert and myself in 3rd. In round 3, I popped a rod end and pulled my truck off having already qualified for the A-main. Eckert took the TQ again. In round 4, Eckert TQ'd again, while my engine flamed out early in the heat. That put Eckert in 1st, followed by McIntosh, Cutchins and myself in 4th.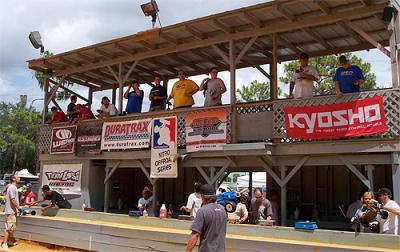 Sunday was the Main events. In the A-Main event, Eckert and McIntosh pulled away from the field with Tony Pattishall in 3rd. I was involved in the 1st lap pile up and dropped way back. I worked my way through the field slowly until I caught Pattishall, but then I crashed on the triple jump and popped a steering ball end which took 2 laps to fix. That dropped me back to 11th. Meanwhile, Eckert and McIntosh had a great battle for the lead, only seconds apart for most of the 30 minute race. With less then 30 seconds left, Eckert moved to the inside down the straight to try a pass on McIntosh, but ran out of fuel. That gave McIntosh the win, followed by Eckert and Pattishall in 3rd.
1/8 Expert Arena Truck A-Main
1. Leon McIntosh – Xray/Max
2. Ryan Eckert – Kyosho/OS
3. Tony Pattishall – Mugen/RB Mods
4. Anton Watson
5. Kyle Sokol – CEN/Maxy
6. Pete Worth
7. Gene Hickerson – CEN/Maxy
8. Justin Cranford – CEN
9. Joey Perez – CEN
10. Larry Bergeron JR
11. Brandon Cutchins
12. Tony Brown – CEN
1/8 Pro Buggy
In round 1 of 1/8 Pro Buggy, the rain started right before the 2nd heat started. Per RC Pro Series rules, the track must be in a similar condition for every heat, so heat #1 was rerun in the mud as soon as it stopped raining. Kyosho's Ryan "Showtime" Eckert set the TQ by 3 seconds over JR Mitch and myself just .1 second behind Mitch. In round 2, Xray's Leon "Neon" McIntosh took the TQ, followed by my CEN Matrix and Eckert's 777. JR Mitch broke his RC8 and thought he might be done for the weekend since spare parts are limited on the proto type ASC buggy. In round 3, I finally put in a clean run with only 1 crash and set a new TQ by 8 seconds over Eckert and Mitch. Round 4 was a shoot out between the 4 fastest guys in FL as we all still had a shot at the overall TQ. Mitch was up 1st and was on a quick pace, but ran out of fuel, probably from a cracked fuel tank. Eckert, McIntosh, and myself were in the final heat of the day after the reshuffle. Eckert and McIntosh both crashed early in the run, so I took an easy TQ with the only 11 lap run of the round. That gave me the overall TQ with 0 points, followed by Eckert & McIntosh in 2nd & 3rd.
On Sunday. the track was blue groove again even with the light rain on Saturday, but around 11:00am, the rains came again. This time it rained hard for about 1 hour, flooding the track. Soon after, the sun came back out and with the help of the Hurricane R/C Club track crew, we were back racing on the wet & muddy track. The rain continued on and off during the rest of the mains. At the start, I took the hole shot but cased the small triple and allowed McIntosh and Mitch to get by. Mitch moved to 1st after some contact with McIntosh, allowing me back into 2nd. Myself and Mitch soon pulled away from the rest of the pack, with less then 5 seconds between us for the next 25 minutes. We swapped back and forth for the lead many times, including contact several times, unlike the close clean racing I had with Eckert and McIntosh in all 4 rounds of qualifying. With about 5 minutes to go, Mitch flamed out handing me almost a full lap lead over the field. Mitch got his RC8 back going but had mechanical failure again with 2 minutes left to end his race. I went into cruise control and took the win by about 25 seconds over McIntosh in 2nd, and Eckert 1 lap back in 3rd.
1/8 Expert Buggy
1. Gene Hickerson – CEN/Maxy
2. Leon McIntosh – Xray/Max
3. Ryan Eckert – Kyosho/OS
4. Jinson Collins
5. JR Mitch
6. Brandon Cutchins
7. Travis Scrambling – CEN/Maxy
8. Kyle Sokol – CEN/Maxy
9. Shane Ogden
10. Patrick Rossiter
11. Alan Burton
12. Ryan Lopez
All in all, it was another great weekend for Team CEN Racing with another TQ and win, with 5 Matrix TR Arenas and 3 Matrix Pros in the A-mains. I would also like to thank all of my sponsors for their support this year: CEN Racing, Machine's R/C Hobbies, Pro-line, Futaba, Maxy's Fuel, KMW Racing, Kolor Koncepts, and Advantage Racing Products.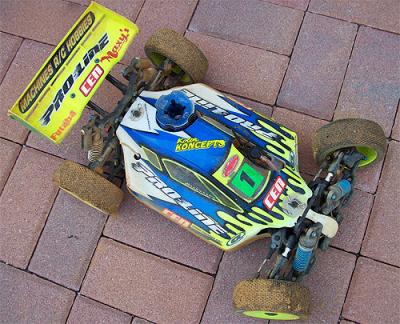 Source: Machine RC Hobbies [machinesrchobbies.com]
---