August 26, 2007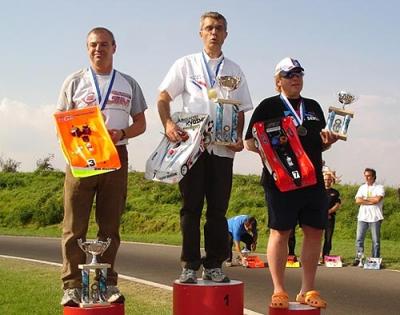 This weekend has seen the European 1/8th scale Championships for drivers aged 40 and over, run at the AMC Hildesheim track in Germany, alongside the European 1/10th 235mm Championship. In the 1/8th scale class qualifying it was French Kyosho driver Eric Nougier that took the pole position from Serpent driver Karl Heinz Meister in 2nd, while in the 235mm class it was Belgian racer Eric D'hondt that claimed the top qualifying spot ahead of current European title holder Alain Levy in 2nd. The 1/8th scale race saw an easy win for the French driver, after Meister claimed the lead after 10 minutes and then immediately went out with a rear belt failure allowing Nougier back in front and able to pull out a 2 lap cushion ahead of eventual 2nd placed finisher Christoph Pietsch with Austrian driver Peter Grandinger claiming 3rd spot at the end of the 45 minute race. In the 235mm final a problem for pole man D'hondt saw him sidelined after only 7 minutes which made it easier for Glyn Beal from the UK to work his way to the front where he eventually finished, despite the German racer Jens Stark in 2nd keeping him honest for the entire race, local driver Thomas Plöger rounded out the podium in 3rd.
Click here to see the final results…
1/8th scale 40+ results:
1. Nougier Eric (F) – 180L 45:11.571
2. Pietsch Christoph (D) – 178L 45:08.866
3. Grandinger Peter (A) – 174L 45:00.160
4. Pafundi Alessandro (I) – 171L 45:12.522
5. Hulliger Hans Peter (CH) – 169L 45:10.919
6. Van Geenhov Freddy (B) – 163L 45:06.896
7. Lichtle Dominique (F) – 89L 21:50.997
8. Meister Karl-Heinz (D) – 87L 21:30.719
9. Pili Luigi (NL) – 66L 22:17.616
10. Stark Juergen (D) – 54L 16:00.181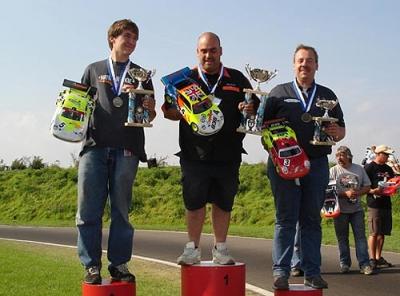 1/10th 235mm results:
1. Beal Glyn (GB) – 163L 45:02.314
2. Stark Jens (D) – 163L 45:15.387
3. Plöger Thomas (D) – 159L 45:06.811
4. Röhrs Friedrich (D) – 158L 45:04.375
5. Wuyts Willy (B) – 150L 45:00.576
6. Kandelhart Gerhard (A) – 120L 34:53.150
7. Levy Alain (D) – 119L 45:09.610
8. Lechner Klaus (D) – 46L 23:17.815
9. D`Hondt Robin (B) – 25L 07:08.765
10. Steinhäuser Carsten (D) – 18L 05:20.328
View a gallery from the event here.
Source: RC Web [rcweb.de]
---