August 11, 2007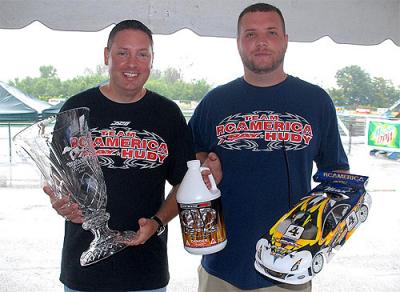 Xray have a report from team driver Barry Baker about the 2007 Great Lakes Challenge race that was held last weekend in Toledo, Ohio. Most drivers had a few days practice to fine tune their setups but unfortunately race day was cancelled due to rain, and so the win was given to Ralph Burch who had taken the TQ spot after qualifying.
In the last round Paul was on a blistering pace to set TQ and made a mistake which meant that he would have to settle for 2nd on the grid. Bobby also had a few mishaps… In this round Ralph put in a different motor and his clutch wasnt right but he did set fastest lap for the event in Sedan(18.44). Ray put in an impressive run in his heat to jump to 4th on the grid (guess he was getting the hang of gas cars..lol). At the end of qualifing they took 11 cars straight to the main and with the NT1 we had 6 of the top 11 including the top 5!
Read the full report here.
Source: Xray [teamxray.com]
---