August 24, 2007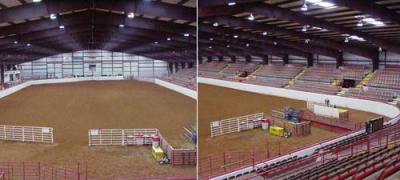 We received a release from the RC Pro Series regarding their Nitro Offroad Finals which will be held once again on the same week as the last 4 years, November 6th-10th. It will be in Alvarado, Texas on Hwy 67 just 3 miles east of Hwy 35W – 25 miles south of Ft. Worth and 45 miles SW of DFW airport. Yes it will be an indoor rodeo arena! It seats 2500 spectators and has plenty of room for pits. There are RV hookups with electrical and water but no sewer. These are extra charge but there is a paved parking area for those who want to use generators intstead. Both areas are just outside the main entrance for the pits. There will be concessions at the arena and on days we are open to the general public there will be a cantina.
Read more…
We have several special things we're working for this event. Once I have them set I will announce them but this should be bigger and better than last year…….. and not nearly as cold! Speaking of temperatures, historicaly the temp range for that time of the year is mid 40's to mid 70's.
We are also planning a manufacturer display area. Any manufacturers that have not spoken with me yet and are interested in displaying your product please contact me. We want everyone to be a part of this event.
Indy RC World will be setup onsite for your parts needs………. unlike the shop at last years finals, they will not be jacking up their prices! They are planning to stock a wide range of brands. We will elaborate on those as we get closer and they have the inventory building.
The track is planned to be 200×100 red clay. I very much wish we could make it loamy but with the number of cars that will be on it, it would be impossible to keep it raceable for that many days. Can we say blow out? So it will be hard packed and as we all know it will blue groove. We have taken a dirt sample and I have several racers looking at it to offer tire choices. My best quess right now is Crimefighters or similar to start ending with Inside Jobs or similar. We have contacted several hotels and have more to talk to but we will post them as soon as we have some deals setup. There are two hotels within 3 miles of the arena and 6 or 7 places to eat. Burleson, Cleburne, Ft. Worth and Dallas are close by for more entertainment.
Finals basic schedule.
Nov. 5th – Track build day – you may check in this day and get setup but you may also get put to work.
Nov. 6th & 7th – Practice days – 8am-10pm (will be practice heats only)
Nov. 8th – Expert & Intermediate Arena Truck and Gas Truck qualifying & some lower mains
Nov. 9th – Expert & Intermediate Buggy and Monster Truck qualifying & some lower mains.
Nov. 10th – Remaining mains.
Nov. 11th – Awards Banquet
This year we will have several new things.
(1) We will have racers from South Africa and the Caribbean – thus the name International Finals.
(2) The top 12 in each class in each division will get the early invitation. Each division will get this invitation immediately following their last division event. They will have a date they must get their entries in by. After that date any open spots will be opened to any racers who have raced in the series in 2007 (just like in the past). Last year we had 368 entries and we are expecting more this year so when entries are opened for your division be sure to get registered as soon as possible. We will have an online entry like last year I strongly suggest doing it online but mail in will be accepted.
(3) also this year anyone in the top 12 Nationally not covered by the division rankings will also get an early invitation. Remeber this year you can score points outside of your division toward national points.
(4) Each racer will be allowed 2 pit people with their entry. All racers and pit people will be required to have their ID visible when going in to the pits. We will supply each racer and pit people with the required ID in your racer packet when you check in. This year RC Pro will be staffing the event and these WILL be checked!
(5) There will be a charge for spectators to enter the arena. Sorry but this is required to help pay the bills for the event as with any kind of sporting event. We do have the luxury of more flexible pricing this year so this price will be better than last year.
Source: RC Pro Series [rcprosites.com]
---