August 19, 2007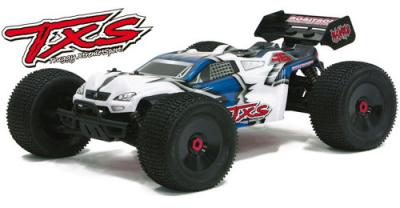 Robitronic have released their new entry level 1/8th scale truggy, the Mantis TXS, which is based on the companys competition truggy, the Mantis. The TXS was designed to bring high performance to beginners and racers and comes pre-built as RTR with the only thing needed are batteries for your radio and car, as well as fuel.
Click here for the full product details…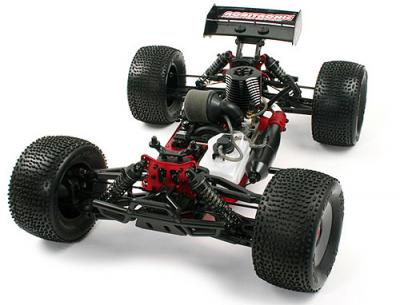 Engine
The Axial 4.6 big block comes with modern engine technology for maximum torque and power. The Aluminum tuned pipe has a strong sound and is perfectly matched with the Axial 4.6 engine.
Transmission
Hardened bevel gears are for a long life under the hardest conditions. The Central differential with spur gear enclosed to prevent rocks and other items from causing damage. The front and rear differential is rubber mounted, in order to protect the gears against vibrations and impact.
Features
– Powerful Axial 4.6 Pull Start Engine
– Universal Joints at the front
– 4WD Shaft-Drive
– Floating front and rear differentials
– Optimized gear reduction for the Axial 4.6 Big block
– Light weight chassis and components for optimal and simple handling
– Adjustable sway bars front and rear
– Ventilated dual brake disk
– Extremely low upperdeck and laydown steering servo for lower center of gravity
– Low profile diffs with small rotational mass for maximum acceleration
– Large wheels with all terrain profile for maximum grip and long life
– High-tech Radio System 27Mhz with hi-torque steering servo
– Low profile Axial Mantis body
– Smooth bottom chassis with countersink to prevent snagging
– Rubber sealed ball bearings
– Aluminum Shocks with 3.5mm shock shaft and 14mm piston
– Fully printed, decaled and trimmed body
– 150cc fuel tank with built in splash guard and drain
– Fuel Bottle
– Glow Plug Igniter
– Cross Wrench
– Convenient carry handled box
Technical data
– Wheelbase: 362-368mm (adjustable)
– Overall length: 550mm
– Overall width: 415mm
– Overall height: 190mm
– Tank volume: 150ccm
– Engine: 4.6ccm
Source: Robitronic [robitronic.eu]
---