September 16, 2007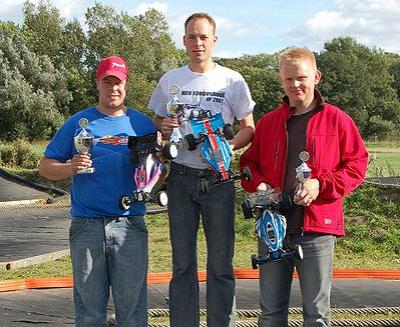 The 7th and last round of the Danish DRCMU 1/10 Off-Road championship, was held recently at the Odense RC Minirace multi surface track which is a tight and technical track. This last race is very important because it gives double points, and so a victory which normally gives 40 points counts for 80 points and because of this the event was very well attended and positions were hard fought.
Read the full report here…
In the 2WD class, Championship leader Lars Alex didnt show up because he had to compete in the DASU 1/8 Off-Road championship which took place on the same weekend. Because of this Christer Rasmussen was now Championship leader and he was able to win the race from his second placed start position after a close race with pole setter Martin Sondergaard. Martin was very unlucky in the finals with two retirement and the 2006 2WD champion Bo Dissing could put himself into 3rd place behind Rene Jespersen in 2nd.
The overall championship standing in 2WD class after last round was following
1. Christer Rasmussen
2. Bo Dissing
3. Lars Kristensen
In the 4WD class championship there was only 2 points between Ulrich Rasmussen and Kim Nielsen, Ulrich was on his hometrack and was able to win round 2 and 3 in qualifying and put his Kyosho on Pole Position, Kim and Ulrich had some close fights in the A-finals but Ulrich was able to keep the pace and won the three A-finals ahead of Kim Nielsen and Palle Hornum. With this latest championship win Ulrich Rasmussen has set an amazing record by winning the 4WD title for the fifth time in a row.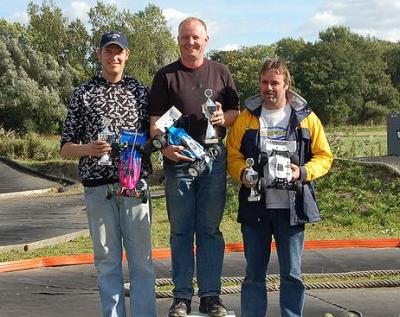 The overall championship standing in 4WD class after last round was following
1. Urlich Rasmussen
2. Kim Nielsen
3. Palle Hornum
In the Stock beginner class it was was very close between the two young drivers Jesper Rasmussen and Alexander Breiner as they have both 159 point before the last round, 12 year old Alexander showed a strong performance in qualifying round and won first two A-finals ahead of 8 year old Jesper Rasmussen who won the third A-final.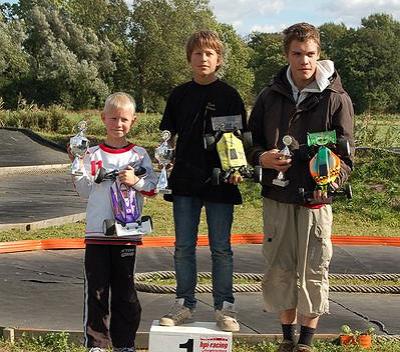 The overall championship standing in Stock class after last round was following
1. Alexander Breiner
2. Jesper Rasmussen
3. Eli Lundgaard
Source: Race Gallery [racegallery.dk]
---