September 17, 2007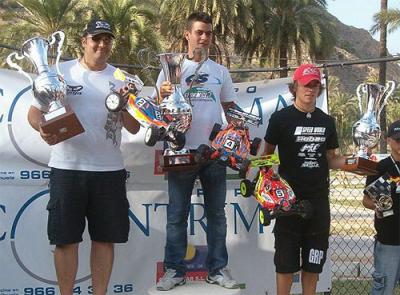 The 4th and final round of the Spanish 1/8th scale Gas off road Nationals was held last weekend at the tricky circuito de Orihuela. The championship title was all but wrapped up in the previous round in favour of the current European Champion Robert Batlle but the runner up spot was still up for grabs so the competition was still strong. After a wet start to the event, qualifying saw top qualifier go to Mugen racer Borja Hernandez with Antonio J. Gomez in 2nd and Robert Batlle in 3rd while after the semis it was Hernandez who would claim pole position, with Vega lining up 2nd and Antonio J. Gomez in 3rd. For the main event it was GS racer Richi Gomez however that came out on top taking the win by less than 10 seconds in front of Daniel Vega for Mugen in 2nd with Batlle in 3rd for Hobao. With Batlle as the Champion, 2nd spot in the championship went to Daniel Vega with Antonio J. Gomez claiming 3rd.
View the final race results here…
1. Richi Gomez Mala – 57 Laps 45:34.08
2. Daniel Vega Frias – 57 Laps 45:43.53
3. Robert Batlle Sa – 56 Laps 45:18.06
4. Borja Hernandez – 56 Laps 45:27.29
5. Antonio Jesus Go – 55 Laps 45:04.01
6. Javier Puche Bañ – 55 Laps 45:33.81
7. Miguel Angel Alm – 55 Laps 45:44.41
8. Ignacio Oliva – 54 Laps 45:10.25
9. Ignacio Candel L – 53 Laps 45:01.84
10. Angel Roque Gam – 50 Laps 45:13.62
11. Alex Brujas Llim – 50 Laps 45:34.36
12. Juanma Vera Var – 18 Laps 29:11.14
View event image gallery here.
Source: Model Car [modelcar.pt]
---