September 22, 2007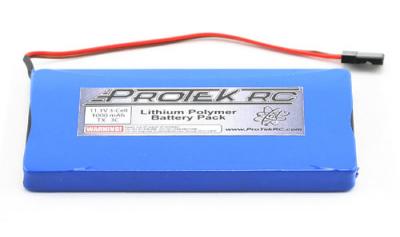 More releases from A Main Hobbies, this time the announcement of a new ProTek R/C brand Lithium Polymer transmitter pack designed to fit the Futaba 3PK and Airtronics M11 radios. This super light weight Li-Poly transmitter battery is designed to reduce the overall weight of your transmitter, which is great for those long main events. Even though this is the lowest capacity Lithium Polymer transmitter battery pack sold under the ProTek R/C brand, it will still provide more than enough capacity to power your transmitter all day long, typically 7 to 8 hours of runtime.
Click here for more details…
The overall weight of your transmitter will be significantly reduced over the use of typical NiMh receiver packs (76 grams compared to 225 grams for eight typical NiMH AA batteries!). Try to hold a pack of eight traditional AA size batteries and compare it with this Li-Poly Transmitter pack. The feeling is just awesome, and you get an incredible 7 to 8 hours of run time!
Runtime:
Don't be thrown off by the capacity rating of Li-Poly battery packs, as you will get awesome runtime out this pack! Given that Li-Poly battery packs provide a higher nominal voltage (11.1V nominal), the actual capacity of the battery pack when compared to a typical NiMH battery pack (9.6V nominal) is about 15% more than the rated value (so this pack would be about the same as a 1150mAh NiMH pack in total capacity).
How should the battery be inserted into the transmitter?
The foam provided in the package should be used to pad the transmitter battery area and stop the battery from moving around. It will fit into the transmitter battery housing with the battery sitting on it, and then, while pressing lightly on the battery, slide the cover over the battery.
IMPORTANT:
1. You will need a Li-Poly specific charger to charge the pack (NiMH or NiCD only chargers WILL NOT WORK!)
2. You must not over discharge the Li-Poly battery pack below 9.0V.
3. Read the instructions carefully before operating this battery.
Specifications:
– Capacity: 1000 mAh
– Transmitter Run time: 3 to 4 hours
– Weight: 76 grams
– Li-Po cell arrangement: 3S1P
– Norminal voltage: 11.1 Volts
– Discharge capability: 3C (5.1A max)
– Dimension(mm): 106 x 54 x 10mm
– Connector: Futaba 'J' Type (cut off the tab for the Airtronics M11)
Source: A-Main Hobbies [amainhobbies.com]
---