September 3, 2007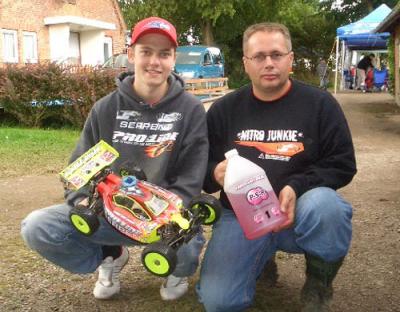 Following on from their announcement last week that Gerd Strenge will spearhead the design of their re-entry into offroad racing competition, Dutch company Serpent have announced the signing of young German talent Jörn Neumann.
Neuman has been racing intensively with 1/10 Offroad cars and has been topping the podium in the European Championships and is a regular finalists at the big races. 4WD is his number one class but he has also proved very qiuck in 2wd. Jörn has been a dedicated racer and promotor of the Durango 1/10 Project and has travelled to many races with Gerd Strenge, the designer of this unique car.
Click here to read more…
As an official Nova Rossi/Proline sponsored driver, Jörn has also entered the 1/8 offroad arena and very succesfully too. At first running the TT-car in 1/8, and recently changing to the Serpent 1/8 proto-type car (still with many alien parts). An excellent results was achieved during the last Proline race in the UK, where he managed to beat the world elite drivers from Europe and USA.
Jörn will cooperate with the Serpent R&D team to develop and test a high performance 1/8 offroad car and same for the 1/10 scale offroad projects and future plans.
Jörn will be racing the Serpent 1/10 4wd Prototype during the Worlds in Japan and will also attend the 2008 1/8 Offroad Worlds in USA.
Source: Serpent [serpent.com]
---