September 29, 2007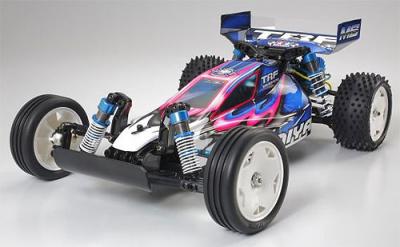 Tamiya have announced that they will release a special edition of their popular DT-02 2WD off-road buggy featuring a simple, user-friendly chassis with exciting performance. The car comes with lots of special option parts to bring out every ounce of hidden potential of this chassis, and to top it all off, this limited edition DT-02 MS comes with a body that is finished in TRF Driver Satoshi Maezumi's personal colors.
Click here for more details…
About the Model
– Sand Viper body is made from lightweight polycarbonate and feature TRF Driver Satoshi Maezumi's stylish colors, mounted on the easy to assemble 2WD DT-02 chassis.
– Equipped with front Astral Dish Wheels (ITEM 51205) and rear Large Dish Wheels (ITEM 53881).
– 4-wheel double wishbone suspension provides stable all-terrain driving performance.
– Gearbox is sealed to prevent interference by dust and debris.
– Full ball bearings ensures smooth and efficient operation.
– Loaded with performance-enhancing Option Parts, such as:
ITEM 53926 DF-03 Aluminum Damper Set
ITEM 53863 DT-02 Ball Differential Set
ITEM 53791 DF-02 Assembly Universal Shaft
ITEM 53831 DT-02 Aluminum Motor Heat Sink Steering Tie-Rod from
ITEM 53828 Hard Turnbuckle Shaft from
ITEM 53942/53943
ITEM 51000 High Torque Servo Saver (Black) – R/C system, motor, tires, ESC, and running battery w/charger separately required.
Source: RCCA [rccaraction.com]
---