October 3, 2007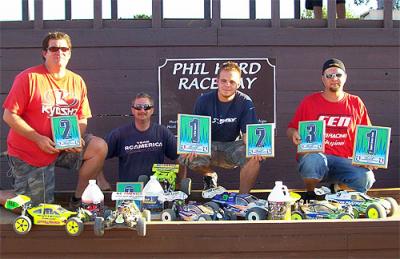 We received a report from Gene Hickersen from the 3rd and final round of the 2007 RC Pro East Series, which was held last weekend in Savannah Georgia at Phil Hurd Raceway. It was a good turnout of about 140 entries as the best of the East battle for the title of RC Pro East Champion. The track was a good combination of fast sections and really slow sections with tons of small double jumps and 1 huge double jump in the middle. There was no place to make up any time on the layout, but many places where you could easily loose time; so the racing was very close as everyone had about the same lap times.
Continue reading…
1/8 Expert Arena Truck qualifying:
Going into this final round, the battle was between Xray's Leon McIntosh and myself as we both had a win in a previous round. In round 1, I put my CEN Matrix Tr Arena on the pole, while McIntosh took 2nd. In round 2, McIntosh put his XB8T on the pole. In round 3, Xray's Chris Crews took the TQ. In round 4, the overall TQ was still up for grabs, but it was Jammin's Brandon Cutchins CRT that won the round. That gave Leon the TQ, followed by Brandon and myself in 3rd. The 5 bonus points for TQ gave Leon the edge going into the A-main.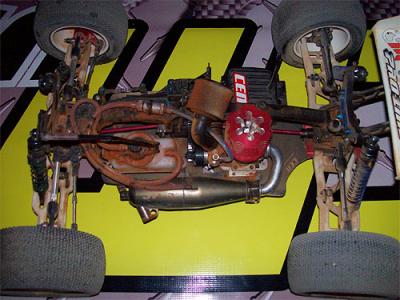 1/8 Arena Truck A-main:
The A-main was a grueling 45 minutes. Bad luck struck right from the start as McIntosh had his engine come loose and missed the start and had to start 1 lap back. At the start, I passed for the lead but then was hit from behind half way through the 1st lap, giving Crews the lead. I worked my way back through the pack into 2nd and set sites on the leader. All I had to do to guarantee the Championship was to finish ahead of Leon, so I took it easy. At about the 12 minute mark, my brakes went out right as I caught Crews. On my 2nd pit stop, I adjusted the brakes on my Futaba radio but I still had no brakes. As I started to drop back, Cutchins and OCM's Alan Burton got by for 2nd and 3rd. Then my steering started to get slow. I then realized that it was my receiver pack that was dying. I yelled to my pit man to get another RX pack ready for my next stop. Soon after, my battery was almost dead and I had to pit early to change it. I rejoined the race 4 laps down and in 8th place. Meanwhile Chris Crews had stretched out a big lead and McIntosh was in 5th and moving up. As the hard packed track started to claim its victims, Leon and I continued to move up. Near the end, McIntosh moved into 3rd place while I was up to 4th place 1 lap back. That was how we finished with Crews taking the win and Cutchins taking 2nd. I thought I had lost the Championship by 1 spot since Leon had a 1st and a 3rd, and I had a 1st, 4th, and a 5th. But after the points were tallied up including bonus points for most laps lead, I was the Champion by only 1 point over McIntosh. Crews finished 3rd overall.
RC Pro East 1/8 Expert Arena Truck Final Standings:
1. Gene Hickerson- CEN/Maxy's
2. Leon McIntosh – Xray/Werks
3. Chris Crews – Xray/Rocket Science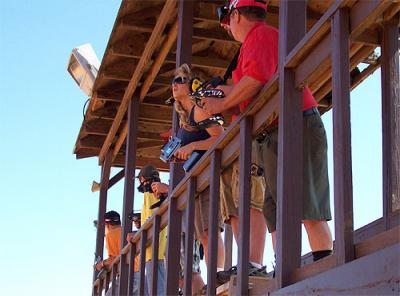 1/8 Expert Buggy qualifying:
In Buggy, it was a battle between Leon McIntosh and myself again. McIntosh had a 1st and a 2nd, while I had a 1st and a 7th. In round 1, Kyosho's Robin Nelson took the TQ. In round 2, Chris Crews took the TQ. In round 3 and 4, it was Team Associated's JR Mitch who put his new RC8 into the TQ and overall TQ position. McIntosh had bad luck and was 1st in the B-main. I had not much better luck, qualifying 10th in the A-main, but my buggy was good and ready for the main event. In the B-main, Leon was way in the lead when his engine flamed out, ending his day. He would have to watch the A-main from the sidelines to see if I over took him in the points chase.
1/8 Expert Buggy A-main:
In the 45 minute A-main, Mitch got a clean start and started to pull away. I worked my way up to 4th place very quickly as there was a lot of hacking going on in the pack. Just as quick as I moved up, I was taken out 3 times and dropped back to dead last in 12th place. Soon after, Mitch came up on me and lapped me. By now, the field was spread out some and I was able to get by slower traffic without being taken out much easier. As I worked my way back through the pack, Mitch flamed out and lost his huge lead. He later dropped out with a mechanical problem to end his day. That gave the lead To Robin Nelson. On lap 56, I moved into 3rd and started to run down the leaders. On lap 61, local Patrick Rossiter took over the lead from Nelson. With less then 5 minutes to go, I caught Nelson and was just 16 seconds behind Rossiter. I was going to take my time as I tried to pass Nelson because all I needed to do to win the Championship was finsih 2nd. But just then, the high winds caught my buggy over the huge double jump and when it landed, it snapped rolled and broke a steering screw off in the knuckle. That ended my day and my chance at the title. Chris Crews moved to 3rd and that was how they finished. That gave McIntosh the overall Championship, followed by Nelson, and myself.
RC Pro East 1/8 Expert Buggy Final Standings:
1. Leon McIntosh – Xray/Werks
2. Robin Nelson – Kyosho/Sidewinder
3. Gene Hickerson – CEN/Maxy's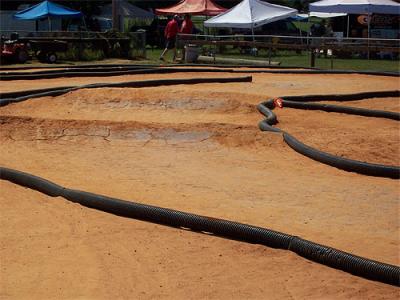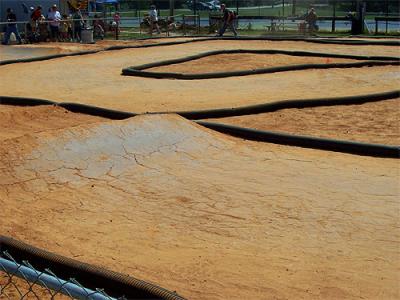 Source: Machines RC Hobbies [machinesrchobbies.com]
---