October 5, 2007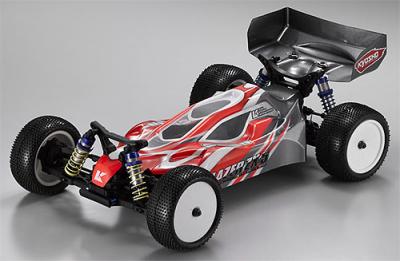 Kyosho have released (coming in November) their new Lazer ZX-5 SP, 1/10th EP 4wd buggy, which was first seen in the hands of team drivers competing in last months IFMAR World Championships. The car's newly designed suspension shows superior turning performance at different speeds and on a variety of different surface types while the advanced aerodynamics of the body also generates effective down-force to keep the machine anchored to the surface. With a rear midship mounted motor, the simple transmission and battery layout achieves optimal weight balance for greater control response. Easy control of the machine's airborne posture marks it as an advanced racing buggy.
Click here for the specifications…
Specifications:
– Straight motor layout is specially designed for centre shaft driven 4WD racing.
– Freely adjustable turnbuckle upper arms are included as part of the double wishbone 4-wheel independent suspension system.
– Equipped with slipper clutch that effectively transfers power as well as protecting the gears from overloading.
– High strength and rigidity of the resin main chassis is reinforced with X-backbone upper deck.
– Features new type triple-cap Pro Shocks. Delivers a wide range of setting adjustment options as well smooth suspension function.
– Choice of three front axle configurations with one-way, ball differential or spool (rigid). One-way is sold separately.
– Rear section equipped with stabilizer.
– Precision universal swing shafts included on front and rear.
– Chassis layout is compatible with either loose battery cells or battery packs.
Source: Kyosho [kyosho.com]
---