October 17, 2007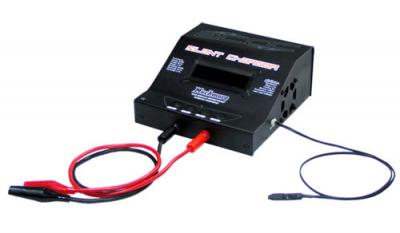 Much More have released information about their new AC DC version of the Silent Charger Platinum. The Silent Charger Platinum is a state of the art microprocessor based charger/discharger system for rechargeable R/C batteries. The Silent Charger is switching type and can fully charge 1 to 14 cells of Ni-MH and Ni-Cd at a digitally adjustable ampage up to a maximum of 6 amps, using peak detection and temperature limit methods, while it can also charge up to 5 cells of Lithium batteries.
Click more for the features and specs…
Features:
– Muchmore's own false-peak detection algorithm.
– Temperature probe is equipped. (35~65deg.C selectable)
– 3 user adjustable charge modes: Ni-MH, Ni-Cd, Li-Po up to 6amperes (120watts)
– 3 user adjustable discharge modes:Ni-MH, Ni-Cd, Li-Po up to 6amperes (40watts)
– Discharge-Charge mode.
– Provides total charged time, peak voltage, capacity (mAh), elapsed time after charge is cutoff.
– Total discharged time, elapsed time after discharge is cut off.
– Orange back lit display. Laser state indicator.
– Trickle charge after chare Ni-Cd is terminated.
Specifications:
Dimensions – 124 x 114 x 47mm
Weight – 520g
Number of cells(Ni-MH/Ni-Cd) – 1~14cells ( 1.2~16.8V)
Number of cells(Li-Po) – 1~6cells (3.7/7.4/11.1/14.8/18.5V/22.2V)
Max charge current – 0.1~ 6A
Max discharge current – 0.1~ 6A
Dicharge cuttoff voltage – Automatically selected
Input voltage – 9~15V
Charging mode – Ni-MH, Ni-Cd, Li-Po
Discharging mode – Ni-MH, Ni-Cd, Li-Po
Trickle charge rate(after charge) – 0.1A(Ni-Cd mode)
Voltage threshold/Delta peak – 3mV/cell(Ni-MH), 6mV/cell(Ni-Cd)
Max charge watts – 120watts
Max dishcharge watts – 40watts
Temperature probe – Magnetic sensor(35~65deg.C)
Keys – 4
Cooling – IC controlled single fan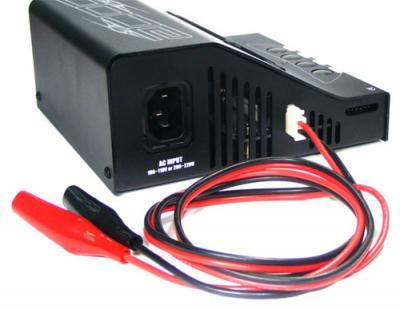 Source: Pit Work [pitwork.co.kr]
---