October 23, 2007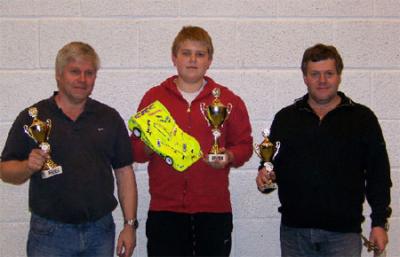 We received a report from the kick off the Norwegian indoor season, which as always starts off with the weekend race in the SAS Radisson Beitostølen hotel. Beitostølen is a ski resort 3 hours drive from Oslo, the capital of Norway. The 1:12 class was dominated by Adrian Berntsen who managed to stay ahead of the older and more experienced drivers. Adrian totally dominated qualification and the finals, to easily take the win and leaving the Dahl brothers to fight for the runner up spots.
Continue reading…
1:12 Results:
1. Adrian Berntsen – CRC
2. Bjørn Dahl – BMI
3. Rolf Dahl – BMI
4. Johnny Magnussen – N/A
5. Alf Skaar – T (star) 12
6. Thorbjørn Jørgensen – Corally
7. Ole Bro – N/A
8. Oddbjørn Trømborg – Corally
Super Stock class
This year is going to be more open since the pro racers like Helge Johannesen, and some other sponsored drivers, are going to race in the modified class. This leaves the class open for youngsters like Petter Berntsen and Jorn Borgevad to battle it out with the older Knut Enger and Rune "I got lucky" Berget. After Qualification Petter Berntsen was the man who sat on the pole, and after some exiting finals Petter managed to secure the win and get a good start of the new season.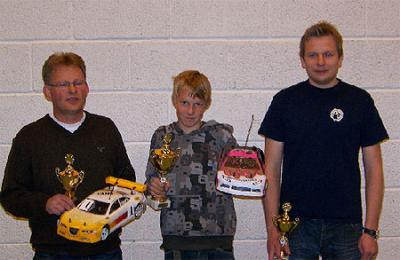 Super Stock 19T Results:
1. Petter Berntsen – Hot Bodies
2. Knut Enger – Xray
3. Kingsnake Borgevad – Tamiya
4. Rune "I got lucky" Berget – Xray
5. Robert Kay – Xray
6. Andreas Bull Freng – Xray
7. Erik Ottervik – Xray
8. Leif Tore Stensrød – Tamiya
9. Knut Kåre Holt – Hot Bodies
10. Espen Myhre – Xray
This years modified class is the biggest in Norway in years with top stars attending like Eirik Andreassen and Helge Johannessen, who just missed out on a A final in 200mm nitro track this summer. The fight was to be between Johannessen and Andreassen followed by Georg Ellingsen, which was the top 3 after qualification. This was to be the result after 3 finals too but due a DQ for Eirik Andreassen meant he lost his best final run and ended up in 4th, promoting Adrian Berntsen to 3rd.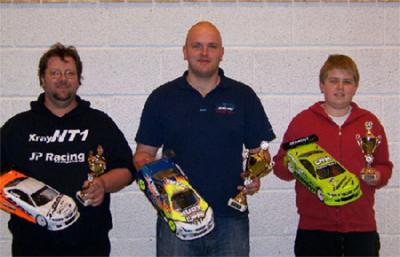 Top 10 Modified
1. Helge Johannesen – Xray 007
2. Georg Ellingsen – Xray 007
3. Adrian Berntsen – Serpent S400
4. Eirik Andreassen – Tamiya MRE
5. Roger Berntsen – Serpent S400
6. Robin Simonsen Nordlie – Xray 007
7. Gøran Langsholt – Serpent S400
8. Christer Antonsen – Hot Bodies
9. Jon Åge Olsen – Corally
10. John Lara – AE TC5
Source: Modellbil [modellbil.net]
---